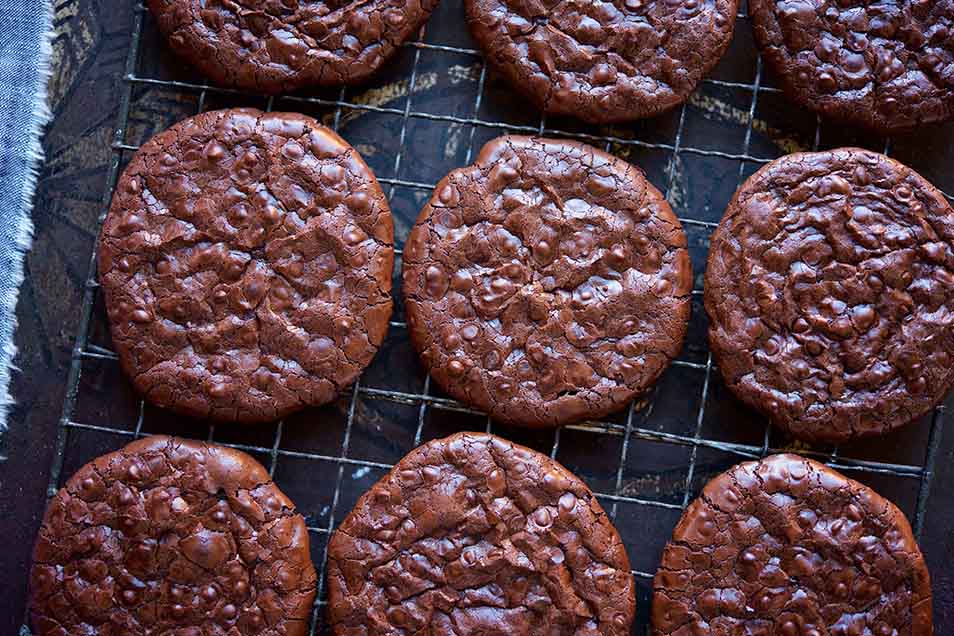 At a Glance
Prep

5 mins. to 7 mins.

Bake

7 mins. to 10 mins.

Total

42 mins. to 47 mins.

Yield

16 large cookies or 32 smaller cookies
Ultra-chewy, rich chocolate cookies with no added fat? And no gluten? Impossible! But it's true: these flourless chocolate cookies get their texture from egg whites, and their flavor from cocoa powder (which represents the only fat in the recipe). Plus they're easy to make: Just stir together a few simple ingredients, scoop onto a pan, and bake for 7 to 10 minutes. You won't believe the delicious result. Speaking of delicious, though — adding chocolate chips and/or chopped nuts to this basic recipe takes these cookies to a whole new level. If you can afford the calories, we highly recommend this addition.
2 1/4 cups confectioners' sugar
1/4 teaspoon salt
1 teaspoon espresso powder, optional but good
1 cup cocoa powder, natural or Dutch-process cocoa
3 large egg whites
2 teaspoons vanilla extract
2 cups chocolate chips, chopped nuts, and/or chopped dried fruit, optional
Directions
Lightly grease two baking sheets. Or line with parchment, and grease the parchment. Yes, grease the parchment; these cookies are sticky, and need to be baked on a greased surface.

Whisk together the egg whites and vanilla. In a separate bowl, whisk together the dry ingredients, except for the chips/nuts/fruit. Stir the wet and dry ingredients together. Scrape the bottom and sides of the bowl, and stir again until smooth. The sticky batter will be the consistency of a thick syrup. Add the chips and/or nuts, if you're using them.

Drop the syrupy batter onto the prepared baking sheets in 3" circles (for large cookies), or 1 3/4" to 2" circles (for smaller cookies); a tablespoon cookie scoop or teaspoon cookie scoop, respectively, work well here. Let the cookies rest on the baking sheets for 30 minutes, while you preheat your oven to 350°F.

Bake the cookies for 7 minutes (for smaller cookies), 8 to 9 minutes for the larger cookies; they should spread slightly, become somewhat shiny, and develop faintly crackly tops. Note: large cookies with added chips/nuts will need to bake for 10 minutes.

Remove the cookies from the oven, and allow them to cool right on the pan. When they're nearly cool, carefully loosen them from the pan with a spatula.
Tips from our bakers
Yes, this batter is supposed to be syrupy and sticky. If it's not, add more egg white until it drips from a spatula in a thick ribbon.
This recipe can be tricky to nail, especially the first time out. Please read our blog post, Putting a Tricky Recipe to the Test, for some handy tips.
The yield on this recipe can vary quite a bit, depending on size and add-ins. Without add-ins, you'll get 16 large (3 1/4") cookies or 32 smaller (2 1/2") cookies. With added chips/nuts — 2 dozen large cookies, or 4 dozen smaller cookies.