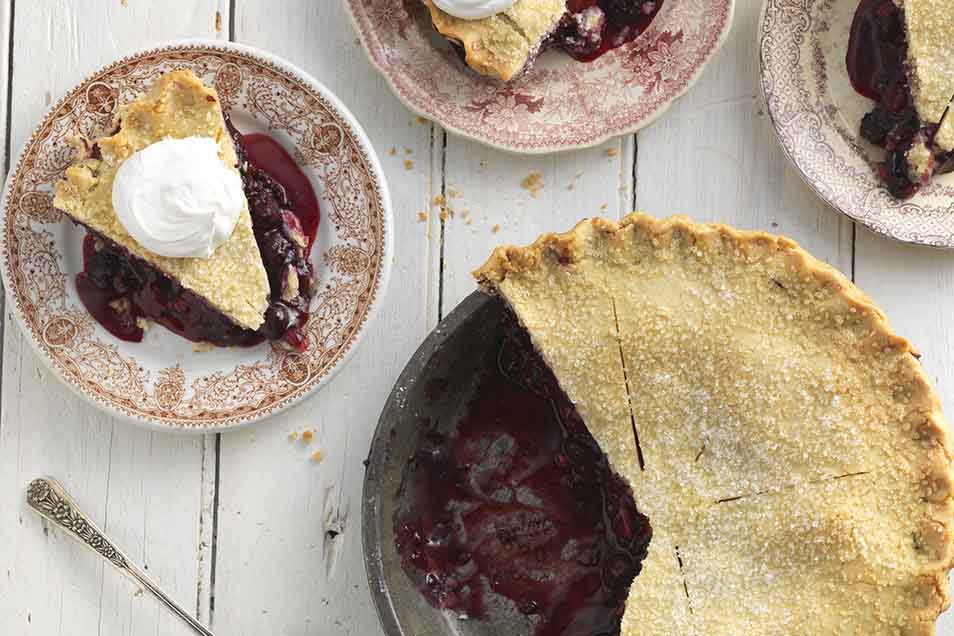 At a Glance
Prep

20 mins. to 30 mins.

Bake

35 mins. to 40 mins.

Total

55 mins. to 1 hrs 10 mins.

Yield

crust for one 9" single-crust pie.
We're proud of the flaky texture of this crust, which can be difficult to achieve with gluten-free ingredients. Thorough baking and a golden brown color will give this crust a wonderful toasty flavor. This is enough for a single 9" crust, but can easily be doubled to make a two-crust pie.

Note that the Instant ClearJel used here is optional; it's not packaged in a gluten-free facility, and thus isn't suitable for celiacs, or for those with a strong allergy to gluten.
1 1/4 cups King Arthur Gluten-Free Multi-Purpose Flour or brown rice flour blend*
1 tablespoon sugar
2 teaspoons Instant ClearJel (optional; not packed in a gluten-free facility)
1/2 teaspoon xanthan gum
1/2 teaspoon salt
3/8 cup (6 tablespoons) cold butter
1 large egg
2 teaspoons lemon juice or vinegar
*See recipe for this blend below.
Directions
Lightly grease a 9" pie pan.

Whisk together the flour or flour blend, sugar, Instant ClearJel, xanthan gum, and salt.

Cut the cold butter into pats, then work the pats into the flour mixture until it's crumbly, with some larger, pea-sized chunks of butter remaining.

Whisk the egg and vinegar or lemon juice together until very foamy. Mix into the dry ingredients. Stir until the mixture holds together, adding 1 to 3 additional tablespoons cold water if necessary.

Shape into a ball and chill for an hour, or up to overnight.

Allow the dough to rest at room temperature for 10 to 15 minutes before rolling.

Roll out on a piece of plastic wrap, on a silicone rolling mat, or in a pie bag that's been heavily sprinkled with gluten-free flour or flour blend. Invert the crust into the prepared pie pan.

Fill and bake as your pie recipe directs.

*Make your own blend
Many of our gluten-free recipes use our King Arthur Gluten-Free Multi-Purpose Flour, which includes ingredients that reduce the grittiness sometimes found in gluten-free baked goods. Our flour also increases the shelf life of your treats, keeping them fresh longer.

The following make-at-home blend, featuring stabilized brown rice flour, works pretty well when substituted; and it tastes better than a blend using regular brown rice flour.

Whisk together 6 cups (28 1/2 ounces) King Arthur stabilized brown rice flour; 2 cups (10 3/4 ounces) potato starch; and 1 cup (4 ounces) tapioca flour or tapioca starch. Store airtight at room temperature. Note: You can substitute white rice flour for the brown rice flour if you like; it'll make your baked goods grittier (unless you manage to find a finely ground version).
Tips from our bakers
The egg yolk makes this crust vulnerable to burned edges, so always shield the edges of the crust, with aluminum foil or a pie shield, to protect them while baking.
To pre-bake without filling, preheat the oven to 375°F. Line the bottom with pie weights, and bake for 25 minutes. Remove the weights, and bake for an additional 10 to 15 minutes, until the crust is a light golden brown.
Making fruit pie? Apply strong heat to the bottom crust at the beginning of the baking time to prevent sogginess. For best results, use a metal (aluminum preferred) pie pan. Bake at 425°F on the bottom rack of your oven for 20 minutes, then reduce the heat to 350°F, move your pie to the middle rack, and continue to bake until the crust is golden and the filling is bubbly.
If you're baking a custard pie in this crust, we recommend pre-baking as directed above, then cooling the crust until you can touch it comfortably before pouring in the custard. Bake the custard-filled pie at the moderate heat such pies require; your recipe will indicate what that is. Don't forget the pie shield for this second bake as well.
The top of a double-crust pie will brown OK; but brushing it with milk and sprinkling it with sugar will enhance its browning, and add sparkle and sweet crunch to your pie.
For an egg-free crust, substitute 4 tablespoons cold water for the egg and lemon juice (or vinegar). If necessary, stir in additional cold water, a teaspoon at a time, until the dough holds together.