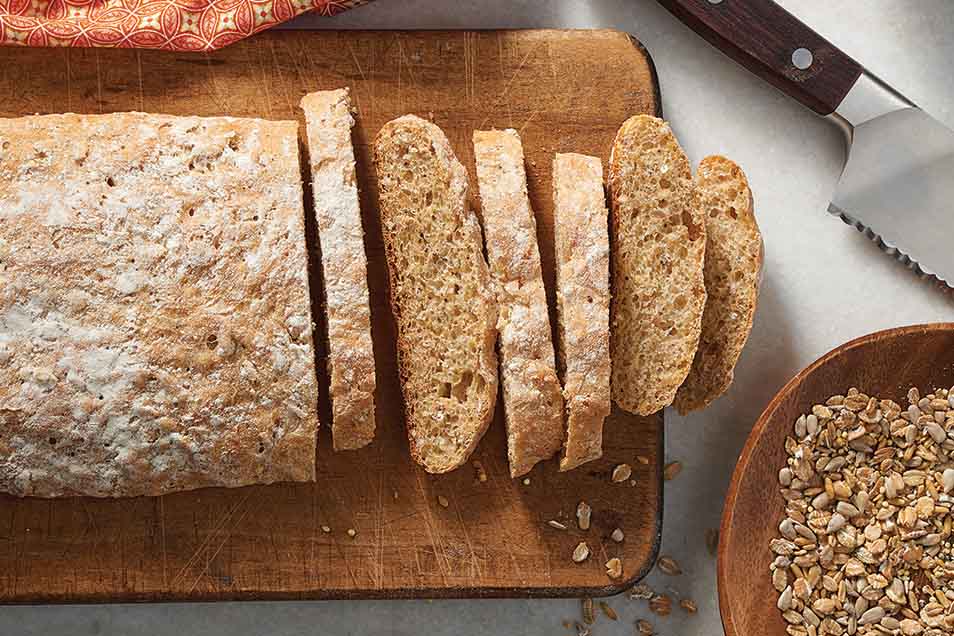 At a Glance
Prep

20 mins. to 30 mins.

Bake

20 mins. to 25 mins.

Total

15 hrs 10 mins. to 18 hrs 55 mins.

Yield

two 11" loaves

Overnight
Coarse-textured and full-flavored, this lusty bread features our Harvest Grains Blend, which lends it extra chew and nice crunch.


Overnight starter
1 cup King Arthur White Whole Wheat Flour
1/2 cup cool water
pinch of instant yeast
Directions
Combine the starter ingredients and stir until cohesive. Cover and let rest at room temperature overnight, or for up to about 15 hours. The mixture will be bubbly.

Combine the starter with all of the dough ingredients except the Harvest Grains Blend, and mix and knead to make a very smooth, soft, very sticky dough. Using a stand mixer equipped with the flat beater paddle, knead for 7 minutes; the dough may or may not clear the sides of the bowl. Or prepare dough in the bread machine set on the dough cycle.

Once the dough is kneaded, add the Harvest Grains Blend, mixing just until it's well distributed. If you're using a bread machine, add the grains blend at the beep. If you're kneading in a stand mixer, add and knead for about 30 seconds, just to combine.

Place the dough in a lightly greased rising container (or leave it in your bread machine), and allow it to rise for 90 minutes, until it's doubled in size. If it's in the bread machine, remove the dough at the end of the dough cycle.

Gently deflate the dough, and divide it in half.

Shape each half into a 10" log.

Place the logs on a large, lightly greased (or parchment-lined) baking sheet, leaving about 5" between them.

Cover and let rise for 60 to 90 minutes, until very puffy. Towards the end of the rising time, preheat the oven to 425°F.

Spray the loaves with lukewarm water, and place them in the oven. Bake for 20 to 25 minutes, or until they're golden brown.

Remove from the oven, and cool on a rack.
Tips from our bakers
This very sticky dough is virtually impossible to knead by hand. Please use a stand mixer, hand mixer, or bread machine set on the dough cycle.
Be sure to add the Harvest Grains Blend after you've kneaded the dough. Adding it first, along with the other ingredients, makes a REALLY sticky dough. Trust us; you don't want to go there.
Want to bake this bread right in the bread machine? Go for it. We've baked it in our Zojirushi here in the test kitchen, and it works just fine.