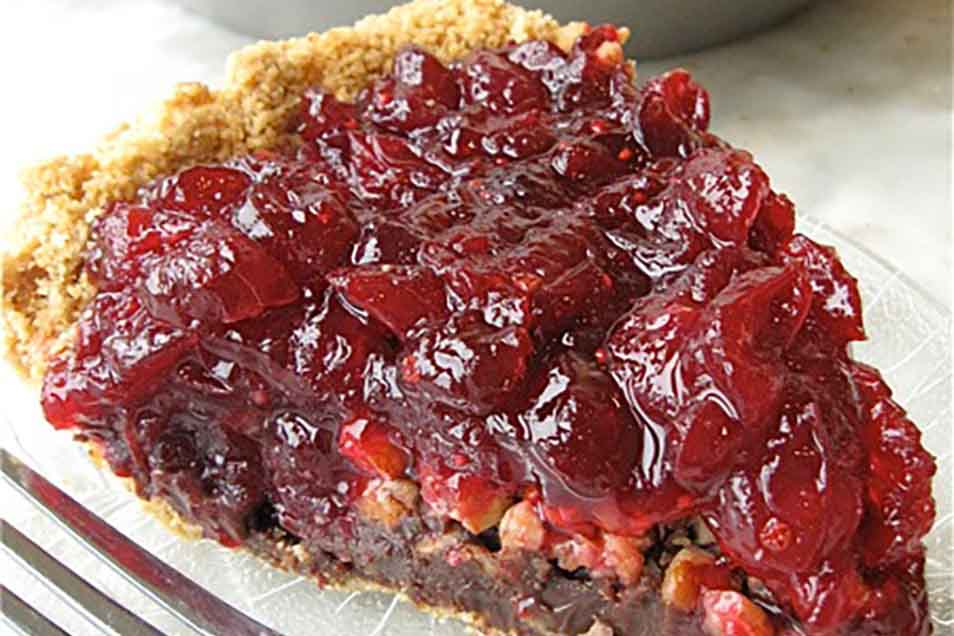 At a Glance
Prep

30 mins. to 40 mins.

Bake

Total

1 hrs 42 mins. to 3 hrs 2 mins.

Yield

9" pie, 8 to 10 servings
Our good friend Joanna Waldman of Thetford Center, Vermont, a superb baker, asked us recently if we had a good recipe for a cranberry dark chocolate tart. No, actually, we didn't — but that's easily remedied! If you like chocolate-covered cranberries, this pie is for you.
Crust
1 2/3 cups graham cracker crumbs*
1/4 cup confectioners' sugar or glazing sugar
5 tablespoons melted butter
*One cellophane-wrapped packet of graham crackers (9 whole crackers) will yield this amount of crumbs.
Filling
1 cup semisweet chocolate chips or chopped semisweet chocolate*
2/3 cup (5 3/8 ounces) heavy cream
3/4 cup diced walnuts or pecans
*Resist the urge to use bittersweet chocolate; with the acidic tang of the cranberries, it's just too much. You want a dark chocolate that's noticeably sweet; most chocolate chips will be fine.
Topping*
1 cup sugar
1/8 teaspoon salt
1 1/2 cups cranberry juice
1 cup dried cranberries
12-ounce package fresh or frozen cranberries, a generous 3 cups
*You'll need about 15 ounces (a scant 1 1/2 cups) topping for the pie. Enjoy the remainder on its own.
Directions
Preheat the oven to 375°F.

To make the crust: Process the crackers, sugar, and melted butter in a food processor until crumbly and well combined.

Press into the bottom and up the sides of a 9" pie pan.

Bake the crust for about 7 to 8 minutes, until it's set, but not brown. Remove from the oven and cool.

To make the filling: Put the chips (or chopped chocolate) and cream in a microwave-safe container, and heat for about 90 seconds.

Remove from the microwave, and stir until the mixture becomes smooth and dark brown; you're simply making a basic ganache.

Spoon the hot ganache into the cooled crust, and sprinkle the nuts on top.

Refrigerate the pie for at least 1 hour, probably 2, until the ganache has firmed up.

While the pie is chilling, make the topping. Bring the sugar, salt, and cranberry juice to a boil.

Stir in the dried cranberries, and simmer for about 5 minutes.

Add the fresh or frozen cranberries, and simmer, stirring occasionally, for 5 to 7 minutes, until some of the berries have burst.

Remove the cranberries from the heat, spoon into a bowl, and chill.

To finish assembling the pie: Spoon 1 1/2 cups cranberry sauce atop the fudge/nut filling. Chill until ready to serve.

Yield: 9" pie, 8 to 10 rich servings.
Tips from our bakers
Toasting brings out the flavor of nuts. Toast nuts in a preheated 350°F oven for 8 to 10 minutes before using, if desired.