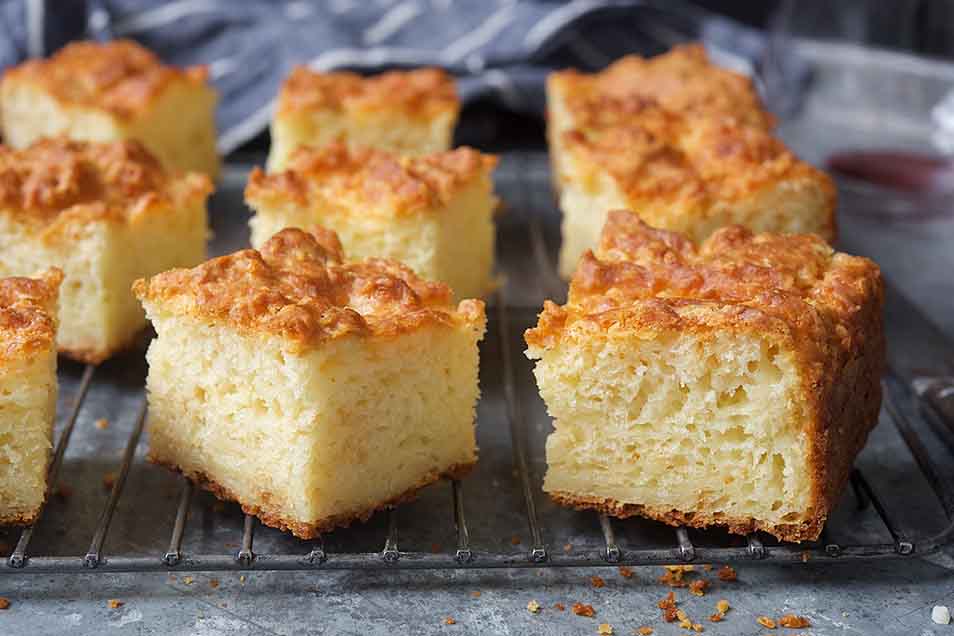 At a Glance
Prep

10 mins. to 15 mins.

Bake

40 mins. to 45 mins.

Total

50 mins. to 60 mins.

Yield

1 loaf
This delicious cheese bread, with its delicately crisp crust and moist interior, is super-simple to put together. Thinking about dinner? You can have this tasty bread on the table in under an hour. Our thanks to our Vermont neighbors, the folks at Cabot Creamery, for this delicious recipe.
2 1/2 cups King Arthur Unbleached All-Purpose Flour
2 teaspoons baking powder
1 teaspoon baking soda
1/2 teaspoon salt
4 tablespoons cold unsalted butter (Cabot preferred), cut into pats
8 ounces Cabot sharp or extra-sharp cheddar, grated; about 2 cups, lightly packed
1 1/4 cups buttermilk*
1 large egg
*Don't have buttermilk? Substitute 3/4 cup plain yogurt + 1/2 cup milk
Directions
Preheat the oven to 375°F. Lightly grease an 8" square or 9" round pan.

In a large bowl, whisk together the flour, baking powder, baking soda, and salt.

Add the butter, working it into the flour until the mixture is crumbly. Toss in the grated cheese.

Mix the buttermilk and egg, and add to the dry ingredients, stirring just until everything is moistened.

Scoop the sticky dough into the pan, using your wet fingers to spread it to the edges of the pan.

Bake the bread for 40 to 45 minutes, until a cake tester inserted into the center comes out clean. Its internal temperature at the center will be close to 200°F.

Remove the bread from the oven, and loosen the edges with a table knife. Wait 5 minutes, then gently turn it out onto a rack to cool. It's tempting, but wait about 20 minutes before cutting the bread, if you can; it's a bit crumbly when hot.

Yield: 1 loaf, about 12 servings.
Tips from our bakers
Cabot's original loaf was a freeform round. To make a round loaf, make a stiffer dough by reducing the buttermilk to 1 cup (or use 3/4 cup plain yogurt and 1/4 cup milk). Shape the dough into a round, place it on a lightly greased or parchment-lined baking sheet, and bake for 35 to 40 minutes, until golden brown.