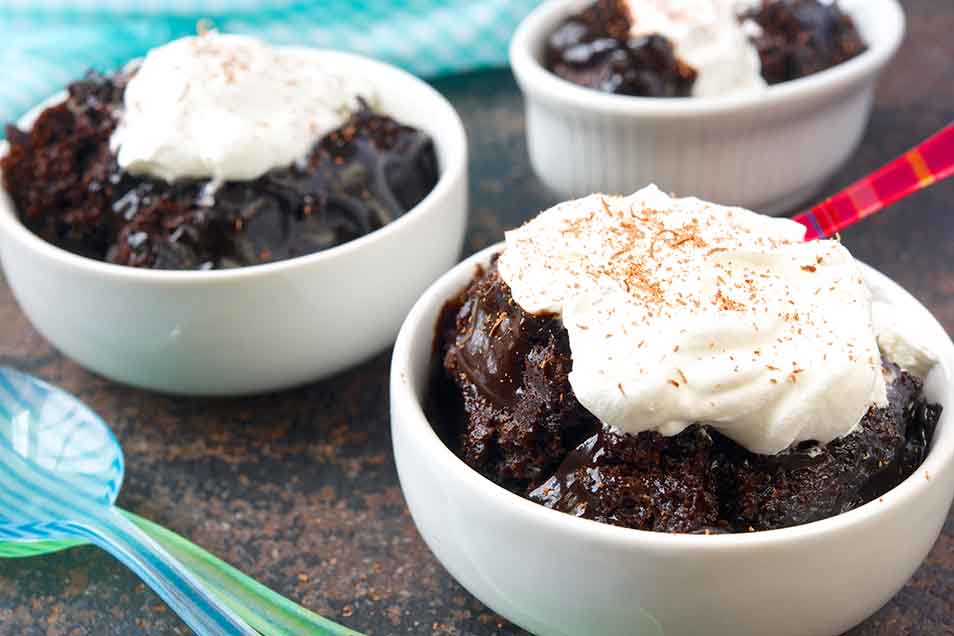 At a Glance
Prep

10 mins. to 15 mins.

Bake

40 mins. to 40 mins.

Total

50 mins. to 55 mins.

Yield

about 8 to 10 servings
Dark and decadent chocolate cake on top, rich fudge sauce underneath — and all in one easy step! Serve this cake warm, with vanilla ice cream gently melting on top.

Want to keep your kitchen cool? Believe it or not, this cake is easily made in your programmable Zojirushi bread machine. Read your machine's directions for information on how to program, if you haven't done so already.
First layer
1 cup King Arthur Unbleached All-Purpose Flour
3/4 cup granulated sugar
2 teaspoons baking powder
1/2 teaspoon salt
6 tablespoons Dutch-process cocoa
1/2 teaspoon espresso powder (optional, but very good)
3/4 cup milk
2 teaspoons vanilla extract
1/4 cup vegetable oil
Directions
To prepare your bread machine: Remove the paddles from the bread machine bucket. Spray the inside of the bucket lightly with non-stick vegetable oil spray. Program the machine for bake only, 40 minutes, no keep warm option.

To prepare for baking in your oven: Preheat the oven to 350°F. Lightly grease a 9" round cake pan.

To make the first layer: In a medium-sized bowl, whisk together the flour, granulated sugar, baking powder, salt, 6 tablespoons cocoa, and 1/2 teaspoon espresso powder. Stir in the milk, vanilla, and oil, mixing until smooth. Pour the batter into the bread machine bucket, or into the 9"round pan.

To make the second layer: Mix the 3/4 cup brown sugar with the 1/4 cup cocoa and 1 teaspoon espresso powder, and sprinkle this mixture over the batter. Gently drizzle the hot coffee or water over the uncooked batter; there's no need to mix it in. Really.

To bake the cake: If you're baking in the bread machine, press Start; allow the machine to complete its cycle.

If baking in the oven, place the pan in the preheated oven, and bake for 45 minutes, removing the cake when it appears set and is bubbly around the bottom.

Let the cake cool for at least 15 minutes before serving. The sauce will thicken as it stands, and when totally cooled will be the consistency of medium-thick fudge sauce.

To serve, scoop servings of the warm cake onto individual plates; top with whipped cream or ice cream, if desired. If you can't serve it while it's warm, keep it at room temperature (for 2 or 3 days), and reheat it VERY briefly in the microwave just before serving.

Yield: 8 to 10 servings.
Tips from our bakers
Brewed coffee in the second layer gives the final product an elusive, aromatic, deep-chocolate flavor, without really tasting coffee-like. Our tasters simply commented, "What makes this taste SO good?!" We recommend coffee highly, but use water if you're so inclined.