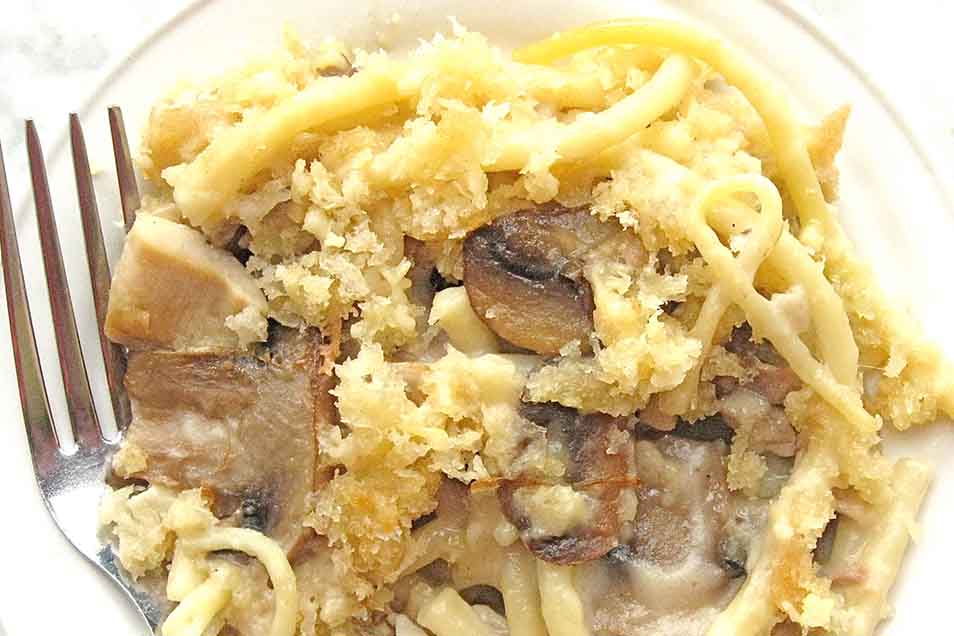 At a Glance
Prep

20 mins. to 30 mins.

Bake

45 mins. to 45 mins.

Total

1 hrs 5 mins. to 1 hrs 15 mins.

Yield

about 6 cups, 6 to 8 servings
What a great use for leftover turkey or chicken! This rich, satisfying dish was apparently named after Italian diva Luisa Tetrazzini, a coloratura who was a favorite of American opera-goers just prior to World War I. Its provenance is a little hazy, but variations on this recipe have been appearing in print for over 50 years.
This recipe is a great candidate for baking in your Zojirushi bread machine. But if you don't have a bread machine, fear not; see the tip below for baking in your regular oven.
Casserole
4 tablespoons butter
4 cups sliced mushrooms
2 1/2 tablespoons King Arthur Unbleached All-Purpose Flour
1 3/4 cups chicken broth
1/2 cup heavy or whipping cream
2 tablespoons dry sherry
1/4 teaspoon salt
1/4 teaspoon ground black or white pepper
1/2 cup (packed) freshly grated Parmesan cheese
8 ounces spaghetti, broken in half, then in half again, cooked
2 to 3 cups diced cooked turkey or chicken
Topping
2 cups soft, fresh bread crumbs*
2 tablespoons melted butter
1/3 cup, packed, freshly grated Parmesan cheese
*Substitute 2 cups (about 4 1/4 ounces, about 120g) Panko bread crumbs, if desired
Directions
Remove the paddles from the bread machine bucket. Lightly grease the inside with non-stick vegetable oil spray. Program the machine for bake, 45 minutes; add the keep warm option, if desired.

In a frying pan set over medium heat, melt the butter and sauté the mushrooms until they've given up their liquid, and the liquid has evaporated.

Stir in the flour, then the broth, cooking until the mixture thickens.

Stir in the cream, sherry, salt, pepper, and Parmesan.

Place one-third of the cooked spaghetti; half the meat; and one-third of the mushroom sauce (about 1 cup) in the bread machine bucket.

Repeat once more, in the same order; the sauce should end up on top.

Combine the bread crumbs, butter, and cheese, and sprinkle on the top.

Press Start.

When the machine has completed its cycle, remove the bucket and transfer the casserole to a serving dish, or simply serve it right from the bucket.

Yield: about 6 cups, 6 to 8 servings.
Tips from our bakers
Don't have any leftover turkey or chicken? Simply cook about 1 1/2 pounds boneless, skinless chicken breasts or thighs. Place them in a saucepan, cover with water, bring to a boil, and simmer gently for 5 minutes. Turn off the heat, and cover the pan. Allow them to poach gently in the water for 1 hour. Drain off the water (keep it to make stock, if you wish), and shred or dice the meat.
To bake in a regular casserole dish, prepare ingredients as directed. Mix all of the casserole ingredients together, and place in a lightly greased 2-quart baker. Sprinkle with the topping, and bake in a preheated 350°F oven for about 45 minutes, or until brown and bubbly around the edges.