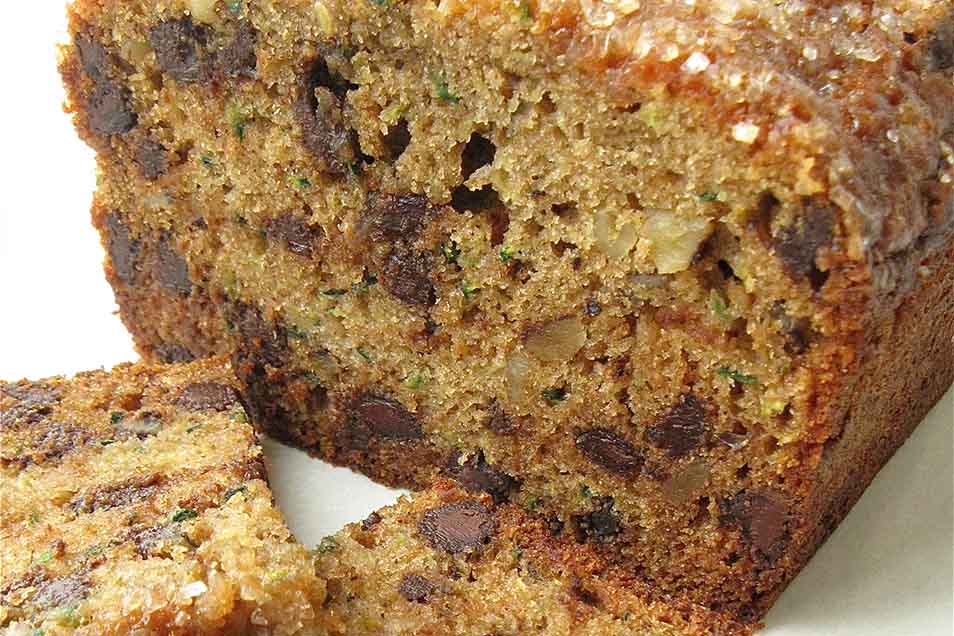 At a Glance
Prep

15 mins. to 25 mins.

Bake

55 mins. to 60 mins.

Total

1 hrs 10 mins. to 1 hrs 25 mins.

Yield

9" x 5" loaf
Facing a zucchini surplus? This moist, dense bread, with its mild hint of cinnamon, offers a sweet surprise: chocolate chips. Never thought of adding chocolate chips to zucchini bread? Give it a try; the rich flavor of chocolate marries perfectly with the earthiness of zucchini and brown sugar.
2 large eggs
1/3 cup molasses or honey
1/2 cup vegetable oil
1/3 cup brown sugar
1 teaspoon vanilla extract
2 cups King Arthur White Whole Wheat Flour or Premium Whole Wheat Flour
1 teaspoon salt
1/2 teaspoon baking soda
1/2 teaspoon baking powder
1 teaspoon ground cinnamon
2 cups shredded, unpeeled zucchini (about 1 small/medium zucchini)
1 cup chocolate chips
3/4 cup chopped walnuts, optional
Directions
Preheat the oven to 350°F; lightly grease a 9" x 5" loaf pan.

In a large mixing bowl, beat the eggs, molasses or honey, oil, sugar, and vanilla until smooth.

Add the flour, salt, baking soda, baking powder, and cinnamon, mixing until well combined.

Stir in the zucchini, chocolate chips, and nuts.

Pour the batter into the prepared pan.

Bake the bread for 55 to 60 minutes, until the loaf tests done (a toothpick or cake tester inserted into the center will come out clean, save for perhaps a smear of chocolate).

Remove the bread from the oven, and let it cool for 10 to 15 minutes before turning it out of the pan onto a rack.

Cool completely before slicing; store well-wrapped, at room temperature.

Yield: one 9" x 5" loaf.
Tips from our bakers
Want to make this bread gluten-free? Substitute 2 cups King Arthur Gluten-Free Flour for the whole wheat flour; add an additional 1 large egg and 1/2 teaspoon xanthan gum; let the batter rest for 15 to 20 minutes before pouring it into the pan; and bake for an additional 10 minutes, or until it tests done with a toothpick. Also, make sure the vanilla extract you use is gluten-free.