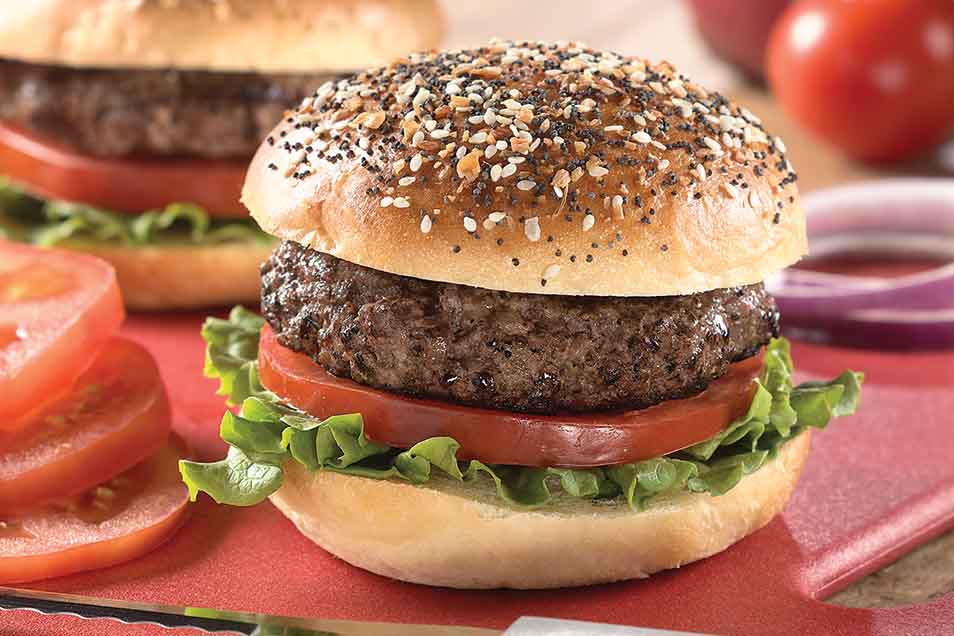 At a Glance
Prep

20 mins. to 40 mins.

Bake

15 mins. to 20 mins.

Total

2 hrs 35 mins. to 3 hrs 10 mins.

Yield

Yield: 6 large buns
Soft buns, topped with crunchy seeds, are a perfect complement to grilled burgers.
Buns
3/4 cup lukewarm water
1 large egg
2 tablespoons butter or oil
2 tablespoons sugar
2 tablespoons sesame seeds whole golden flax seeds or Everything Bread and Bagel Topping
2 teaspoons instant yeast
1 teaspoon salt
1 teaspoon onion powder, optional
2 3/4 cups King Arthur Unbleached All-Purpose Flour
Directions
To make the dough: Combine all of the dough ingredients, and mix and knead them, by hand, mixer, or bread machine, to make a soft dough.

Place the dough in a lightly greased bowl, cover, and let it rise in a warm place for an hour, until it's almost doubled in size.

Turn the dough out onto a lightly greased surface, flatten it slightly, and divide it into 6 pieces, each weighing about 3 1/2 to 4 ounces.

Roll each piece into a ball.

Place balls into the greased cups of a hamburger bun pan, flattening gently.

Cover and let rise until the buns have doubled in size. Towards the end of the rising time, preheat the oven to 375°F.

Bake the buns for 10 minutes. Remove them from the oven, brush with lightly beaten egg white (or spray with Quick Shine) and sprinkle with seed topping; do this quickly, or the seeds won't stick!

Return the buns to the oven and bake for 5 to 8 minutes, until they're golden brown. Remove from the oven, and cool on a rack.