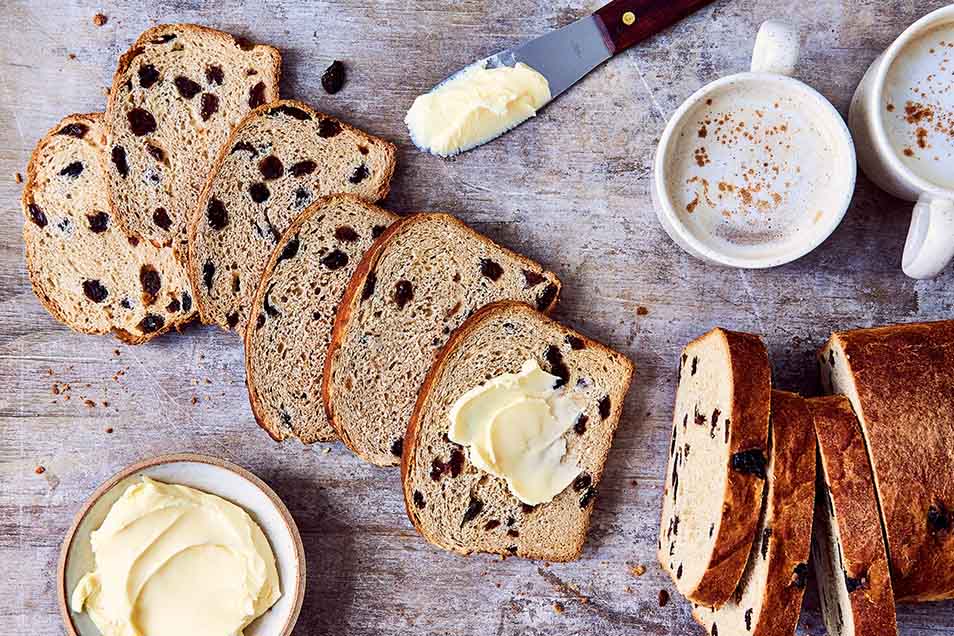 At a Glance
Prep

15 mins. to 25 mins.

Bake

35 mins. to 40 mins.

Total

10 hrs 50 mins. to 20 hrs 5 mins.

Yield

1 loaf

Overnight
This soft sandwich bread, studded with raisins, is our American take on "fancy" Irish bread. While everyday Irish bread is made with baking soda and whole wheat flour, ours has just a touch of whole wheat; adds yeast to the leavening, and begins with an overnight starter, which improves flavor, texture, and keeping qualities. The raisins are a salute to American-Irish soda bread, typically made with both raisins and caraway.
Starter
1 cup King Arthur White Whole Wheat Flour, organic preferred
1/2 cup cool water
1/8 teaspoon instant yeast
Dough
all of the starter
2 cups King Arthur Unbleached All-Purpose Flour
1 1/4 teaspoons salt
3 tablespoons potato flour or 1/3 cup instant potato flakes
3 tablespoons brown sugar
1/2 teaspoon baking soda
2 1/4 teaspoons instant yeast
1/4 cup (4 tablespoons) softened butter
1/2 cup lukewarm milk
1 cup golden raisins, dark raisins, or a combination; or currants
Topping
1/4 teaspoon ground cinnamon
1 tablespoon confectioners' sugar
1 tablespoon cold water
Directions
To make the starter: Combine the flour, water, and yeast in a small bowl, mixing until all of the flour is moistened. Cover the bowl, and let the starter rest overnight (or for up to 20 hours or so), at room temperature; it doesn't need to be placed somewhere warm. It will expand and become a bit bubbly.

To make the dough: Combine the starter with everything except the raisins. Mix and knead to make a smooth, soft dough. The dough will seem dry at first, but as you knead it'll soften up.

Place the dough in a greased bowl or greased 8-cup measure, cover it, and let it rise for 60 to 90 minutes, until it's noticeably puffy though not necessarily doubled in bulk.

Gently deflate the dough. Knead in the raisins; your hands are the best tool here. If you have time, let the dough rest for 20 to 30 minutes; this short rest will make it easier to shape.

Shape the dough into a log, and place it into a lightly greased 8 1/2" x 4 1/2" loaf pan. Cover the pan with a large overturned bowl, or tent it lightly with greased plastic wrap. Allow the dough to rise until it's crowned about 1/2" to 3/4" over the rim of the pan, 60 to 90 minutes. Towards the end of the rising time, preheat the oven to 350°F.

Uncover the bread. Mix the cinnamon, sugar, and water, and brush it over the loaf.

Bake the bread for 20 minutes. Tent it loosely with aluminum foil, and bake for an additional 20 to 25 minutes, until it's golden brown all over. When you remove the loaf from the pan, give it a gentle squeeze; it should feel stable, with good structure. If it wobbles or feels too soft, return it to the oven for 5 to 10 minutes.

Remove the bread from the oven, and turn it out of the pan onto a rack to cool. Cool completely before slicing. Wrap airtight, and store at room temperature for up to 5 days; for longer storage, wrap well and freeze.

Yield: 1 loaf.
Tips from our bakers
We like to bake this bread for New Year's Day. Irish tradition designates January 1 "Day of the Buttered Bread." An old custom involved placing bread-and-butter sandwiches on the doorstep, to show that all within were well-fed — a talisman against famine in the coming year.
Why use a starter to make this bread? It's not sourdough, not particularly "artisan..." We find that a simple overnight starter both enhances bread's flavor AND its keeping qualities; the short amount of "extra" fermentation raises the bread's acidity level just enough that it stays fresher longer.
If you use currants instead of raisins, you'll have a greater distribution of fruit throughout the loaf, due to currants' smaller size. How about if you simply increase the amount of regular raisins, for more fruit in each bite? We tried that, and found increasing the raisins slowed fermentation considerably, and also affected the bread's final rise, due to sugar leaching from the raisins into the dough. It made a nice loaf, for sure; but it was denser. If that's what you're after, use 2 cups raisins, and bake in a 9" x 5" loaf pan.
Omit the cinnamon topping, if desired; it's not critical, but adds a nice hint of spice. The topping amounts as written make more than enough; we did it that way simply because it's easier to measure a tablespoon each confectioners' sugar and water than 1 1/2 teaspoons each. Drizzle the excess over your morning oatmeal!
This bread makes a marvelous grilled cheese sandwich. Slice bread, and spread one side of each piece with mayonnaise (yes, mayo; it makes a beautifully crisp, golden brown crust). Top bare side (no mayo) of bottom slice with Cabot Seriously Sharp cheddar and thinly sliced Granny Smith apple. Top with remaining slice, mayo side out. Fry slowly in a lightly greased pan, until bread is golden brown and cheese has melted.