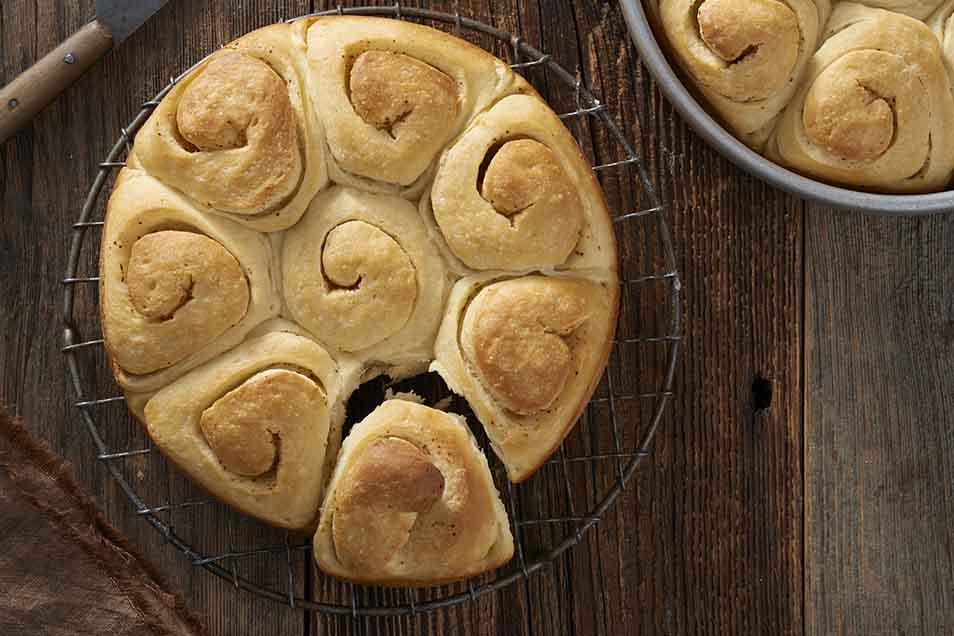 At a Glance
Prep

20 mins. to 30 mins.

Bake

22 mins. to 25 mins.

Total

3 hrs 42 mins. to 4 hrs 55 mins.

Yield

16 buns
When you think sourdough bread, you probably think an artisan loaf, one with a thick, chewy crust and coarse interior. These soft dinner rolls are at the opposite end of the texture spectrum. Buttery spirals with a pleasingly mild sourdough tang, they're soft on the inside, but sport a wonderfully crisp crust — think crescent roll. And, like a crescent roll, they're fun to unravel and enjoy bit by buttery bit!
Dough
1/2 cup sourdough starter, ripe (fed) or discard
3 cups King Arthur Unbleached All-Purpose Flour or Organic All-Purpose Flour
2 1/2 teaspoons instant yeast
1 tablespooon sugar
1 1/4 teaspoons salt
1 large egg
5 tablespoons soft butter
2/3 cup lukewarm water
Topping
4 tablespoons melted butter, divided
1/4 teaspoon paprika, optional
Directions
Combine all of the dough ingredients in a large bowl, and mix and knead — using your hands, a stand mixer, or a bread machine set on the dough cycle — to make a soft, smooth dough.

Place the dough in a lightly greased container — an 8-cup measure works well here — and allow the dough to rise for 1 1/2 to 2 hours, until it's just about doubled in bulk.

Gently deflate the dough, and transfer it to a lightly greased work surface.

Roll and pat the dough into a rough rectangle approximately 12" x 16". Put 2 tablespoons melted butter in a small bowl, and add the paprika, if desired; it's there for color, and accentuates the buns' swirl, but omit it if you wish. Spread the dough with the melted butter.

Starting with a long side, roll the dough into a log.

Cut the log in 1" slices, using a sharp knife, or a piece of dental floss looped between your fingers.

Lightly grease two 8" or 9" round cake pans. Arrange 8 buns in each pan.

Cover the pans, and let the buns rise for 60 minutes, until they're noticeably puffy. Don't let these buns rise too long; you want them to have enough rising power left to expand nicely in the oven. Towards the end of the rising time, preheat the oven to 350°F.

Uncover the pans, and brush each bun with some of the remaining melted butter.

Bake the buns for 22 to 25 minutes; they'll color only slightly.

Remove the buns from the oven, and turn them out of the pan onto a rack. Brush with any remaining melted butter. Serve hot or warm. To reheat, place the buns on a baking sheet, tent lightly with aluminum foil, and bake for 10 minutes in a preheated 350°F oven.

Wrap any leftover buns airtight, and store at room temperature for several days. For longer storage, wrap airtight and freeze.

Yield: 16 buns.
Tips from our bakers
You'll notice these buns don't brown as deeply as most dinner rolls — how come? Typically long rising, sourdough affects browning by changing the pH of the bun, as well as consuming the sugar that would otherwise caramelize (brown) on the bun's surface.