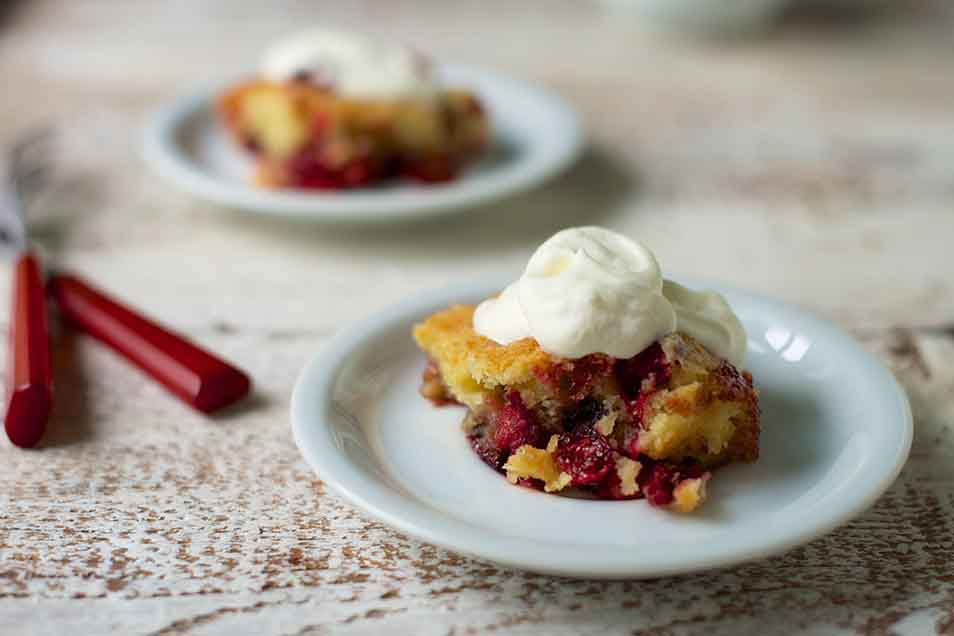 At a Glance
Prep

10 mins. to 15 mins.

Bake

40 mins. to 45 mins.

Total

50 mins. to 60 mins.

Yield

9" cake
Usually called Nantucket Cranberry Pie, this ubiquitous recipe appears everywhere online, with each site revealing some very slight variation: pan size, the amount of almond extract, whether or not to chop the berries or melt the butter... This version includes our own tweaks: the addition of vanilla extract; and a sprinkling of coarse sugar on top, for delightful crunch.
1 tablespoon melted butter
2 cups fresh or frozen cranberries, chopped
1/2 cup chopped walnuts
1/2 cup granulated sugar
2 large eggs
3/4 cup (12 tablespoons) butter, melted and cooled slightly
1 cup granulated sugar
1/2 teaspon salt*
1 teaspoon vanilla extract
1/4 teaspoon almond extract
coarse white sparkling sugar, for topping
*Reduce the salt to 1/4 teaspoon if you use salted butter.
Directions
Preheat the oven to 350°F. Lightly grease a 10" pie plate or 9" square cake pan. Melt 1 tablespoon butter, and drizzle it into the bottom of the pan.

Spread the chopped cranberries and nuts in the bottom of the pan. Sprinkle with the 1/2 cup sugar.

In a mixing bowl, beat together the eggs, 3/4 cup melted butter, sugar, flour, salt, vanilla, and almond extract.

Spread the thick batter over the cranberries and nuts in the pan, using a spatula or your wet fingers.

Sprinkle coarse white sparkling sugar atop the batter.

Bake the cake for 40 to 45 minutes, until a cake tester inserted into the center comes out clean of batter or crumbs.

Remove the cake from the oven. Serve warm, or at room temperature; just as it is, or with whipped cream or ice cream.
Tips from our bakers
If you're using frozen cranberries, either let them thaw a bit after chopping; or add a couple of minutes to the cake's baking time.