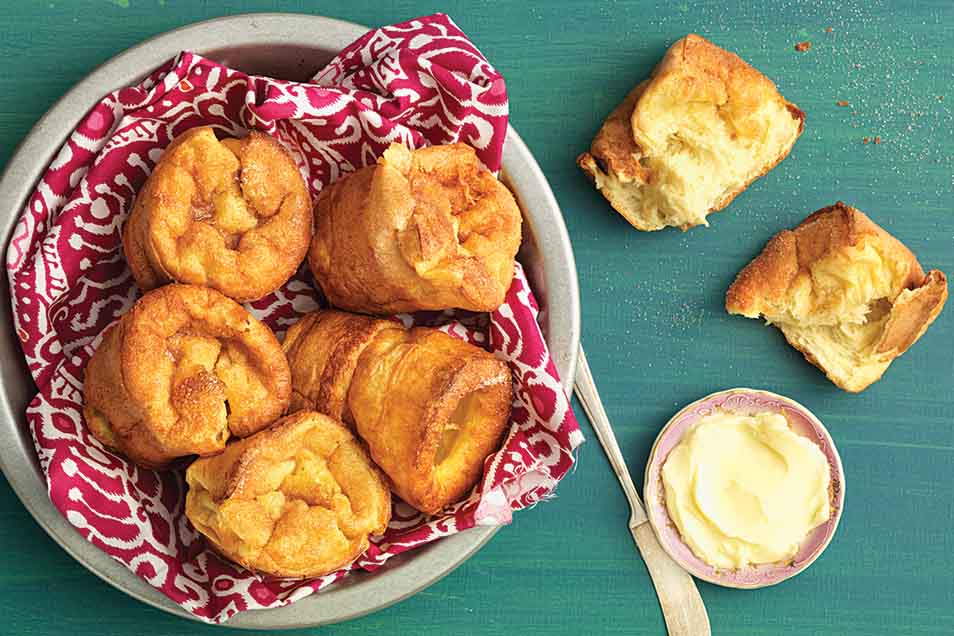 At a Glance
Prep

5 mins. to 8 mins.

Bake

30 mins. to 35 mins.

Total

35 mins. to 43 mins.

Yield

6 popovers
With only five ingredients, this recipe means you can have popovers mixed up and ready to go into the oven as soon as it's heated up. Half an hour later — hot popovers! The sourdough starter gives them just the slightest tang. And, while these aren't the lightest popovers you'll ever experience, their combination of crisp crust and soft interior is a wonderfully comforting treat.
1 cup milk (full-fat, reduced-fat, or skim)
3 large eggs
1/2 cup sourdough starter, ripe (fed) or discard
3/4 teaspoon salt
1 cup King Arthur Unbleached All-Purpose Flour
Directions
In the microwave or in a small saucepan, warm the milk until it feels just slightly warm to the touch.

Combine the warm milk with the eggs, sourdough starter and salt, then mix in the flour. Don't over-mix; a few small lumps are OK. The batter should be thinner than a pancake batter, about the consistency of heavy cream.

Heat a muffin or popover pan in the oven while it's preheating to 450°F.

Carefully remove the hot pan from the oven, and spray it thoroughly with non-stick pan spray, or brush it generously with oil or melted butter. Quickly pour the batter into the cups, filling them almost to the top. If you're using a muffin tin, fill cups all the way to the top. Space the popovers around so there are empty cups among the full ones; this leaves more room for expansion.

Bake the popovers for 15 minutes, then reduce the oven heat to 375°F and bake for an additional 15 to 20 minutes, until popovers are golden brown.

Remove the popovers from the oven and serve immediately.

Yield: 6 popovers.
Tips from our bakers
Can you double this recipe to make a dozen popovers? Sure, go right ahead; simply double all the ingredients.
Can you make these with whole wheat flour? Sure. The result will be a very eggy whole wheat muffin, though, not a popover.
For sweet, cinnamon-sugar popovers: Prepare and bake the popovers as instructed. When the popovers come out of the oven, brush them with melted butter (about 1/4 cup per batch), and roll them in cinnamon-sugar (about 1/4 cup per batch).
For savory, cheddar-herb popovers: Mix 2 teaspoons herbes de Provence and 1/4 cup Vermont cheese powder to the flour before stirring it into the sourdough-egg mixture. Finish the popovers according to the recipe instructions.