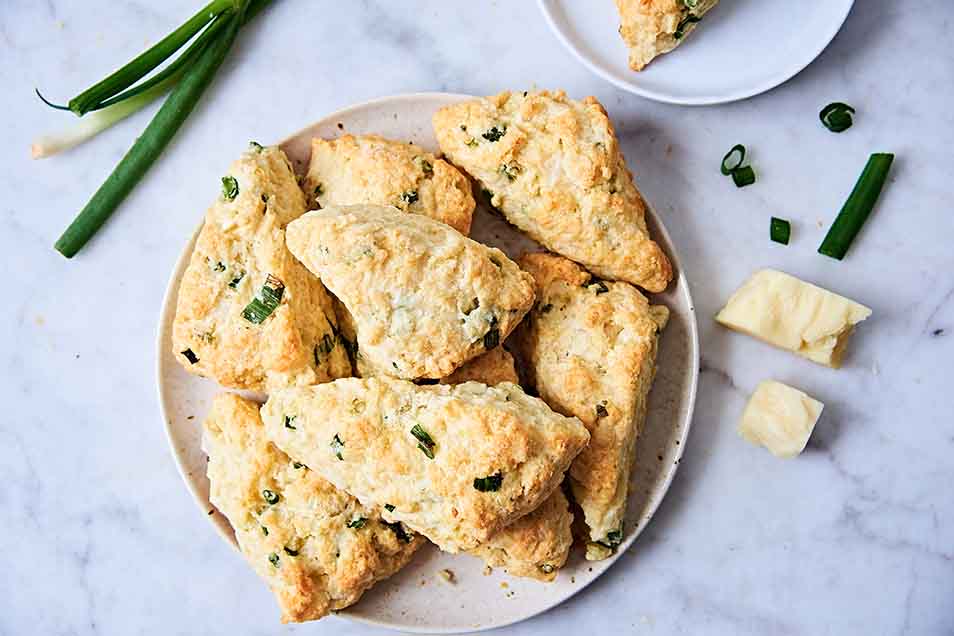 At a Glance
Prep

10 mins. to 20 mins.

Bake

20 mins. to 23 mins.

Total

30 mins. to 43 mins.

Yield

10 scones
When most people think of scones, they think sweet: classic currant, cranberry-orange, offbeat chocolate chunk. But scones are just as delicious in savory versions, like this moist cheddar cheese and scallion version, perfect with your breakfast scrambled eggs.
1/2 teaspoon salt
1 tablespoon baking powder
6 tablespoons cold butter, cut into pieces
1 cup grated or chopped sharp cheddar cheese; we prefer Cabot extra-sharp
3 scallions, cleaned, trimmed, and chopped (both white and green parts)
2 large eggs
1/3 cup milk, cream, sour cream, or ricotta cheese
1 tablespoon Dijon mustard, optional, for flavor
1 teaspoon hot sauce, optional, for zing
Directions
Preheat the oven to 375°F. Lightly grease a baking sheet, or line it with parchment.

Whisk together the flour, salt, and baking powder. Work in the butter with your fingers to make an unevenly crumbly mixture.

Toss in the cheese and scallions.

Mix together the eggs and cream (or dairy of your choice); and the mustard and hot sauce (if you're using them). Add to the dry ingredients, stirring just until everything is evenly moistened; the dough will be very sticky.

Liberally flour the counter and your hands. Pat the dough into a 10" x 2" rectangle. For larger, flatter scones, pat into a 15" x 3" rectangle.

Cut the rectangle into 5 squares; then cut each square in half diagonally, to make a total of 10 triangular scones.

Place the scones on the prepared baking sheet, leaving at least 1" between them.

Bake the scones for 20 to 23 minutes, until they're nicely browned. Remove them from the oven, and serve warm or at room temperature. Store, well-wrapped, at room temperature, for several days; freeze for longer storage.