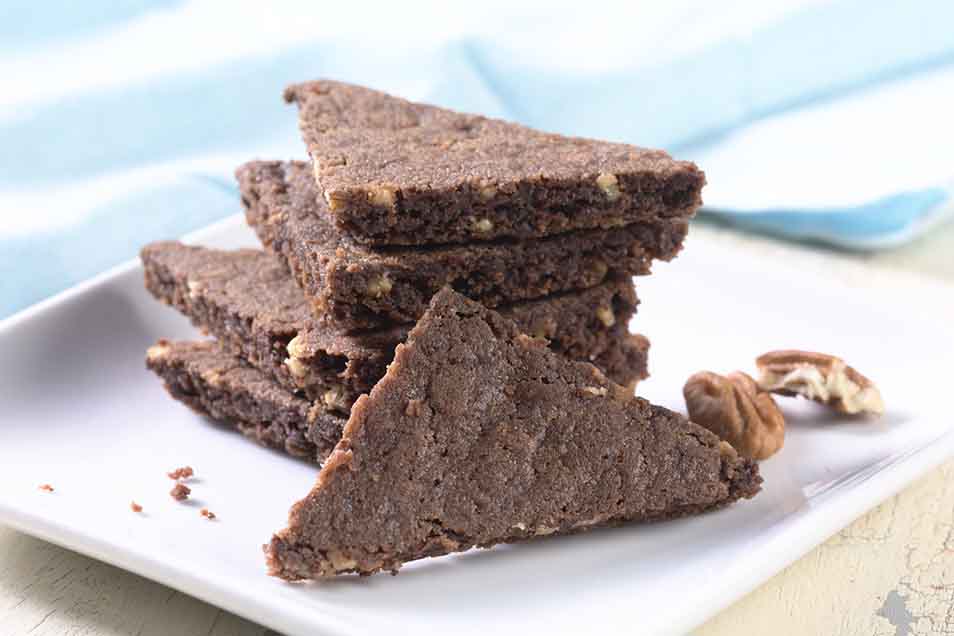 At a Glance
Prep

10 mins. to 15 mins.

Bake

35 mins. to 40 mins.

Total

60 mins. to 1 hrs 10 mins.

Yield

1 to 2 dozen pieces, depending on thickness
Originally published in the King Arthur Flour Cookie Companion cookbook, this simple 6-ingredient recipe yields incredible shortbread. Rich and chocolate-y, it comforts and soothes the palate with its buttery goodness. Endless variations will keep you baking these cookies over and over and over.
Directions
Preheat the oven to 300°F. For thin, crisp shortbread, grease two 8" square pans. For thicker shortbread, grease one 9" square pan.

To avoid over-creaming, we recommend that you stir the dough by hand. In a medium-sized bowl, stir together the butter, salt, and sugar until well blended.

Add the cocoa, vanilla, baking powder, and flour, and mix until you have a smooth, slightly stiff batter.

Press the dough into your prepared pan(s) and prick all over with a fork. This will keep the shortbread from developing bubbles under the crust.

Bake the shortbread in two pans for 35 to 40 minutes; the single 9" pan will take about 50 minutes. Remove from the oven and cool for 5 minutes.

Invert the pan(s) over a clean sheet of parchment and turn out the shortbread. While still warm, cut each square into 12 pieces. Cool completely before serving.

Yield: 12 to 24 pieces, depending on thickness.
Tips from our bakers
Chocolate/Chocolate Chip-Walnut Shortbread: Prepare as directed, stirring in 1/4 cup mini chocolate chips and 1/4 cup diced walnut pieces before baking.
Chocolate-Orange-Spice Shortbread: Prepare as directed, stirring in 1/2 cup candied diced orange peel, 3 drops orange oil, 1/4 teaspoon allspice, 1/4 teaspoon ginger, and a pinch of cloves. Bake as directed. This version was a winner in our test kitchen tastings — a real home run.