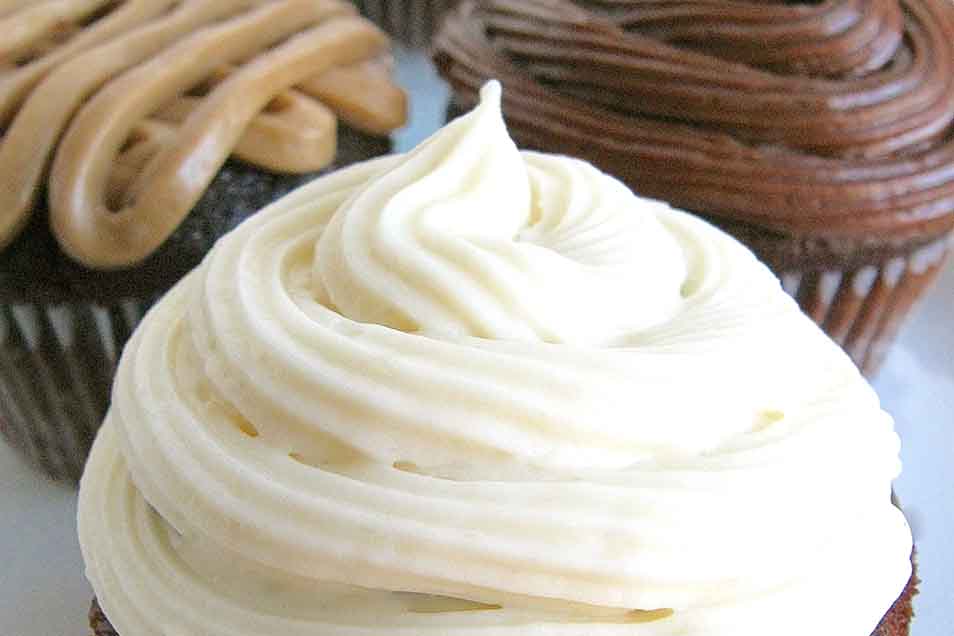 At a Glance
Prep

5 mins. to 10 mins.

Bake

Total

4 hrs 10 mins. to 3 hrs 15 mins.

Yield

3 to 4 cups, enough for 2 dozen cupcakes or 1 layer cake
This ridiculously easy recipe produces a thick, glossy icing, easily flavored to taste — we provide instructions here for chocolate and coffee icing, as well as vanilla. It's perfect for piping atop cupcakes or filling a layer cake, as it holds its shape indefinitely. And unlike classic buttercream, it won't wilt or melt in the heat. With just three main ingredients — cream, marshmallows, and confectioners' sugar — there's no need to separate eggs, nor search the cupboard for meringue powder. And with no added fat, beyond that in the whipped cream, it's a lower-calorie alternative to more traditional frostings — though you'd never know it, it's that rich and tasty!

Note: We've discovered that the success or failure of this recipe depends on the size of the marshmallows. For best results, use name-brand (Kraft) mini-marshmallows.
2 cups (1 pint) heavy cream
1 bag (10 to 10 1/2 ounces) Kraft mini-marshmallows
1 cup confectioners' sugar
1/8 teaspoon salt
1 to 2 teaspoons vanilla extract, optional
*See "tips," below.
Directions
Place the cream, marshmallows, confectioners' sugar, and salt in a large, deep saucepan.

Heat over medium-low heat, stirring frequently, until the marshmallows melt completely.

Remove from the heat, and stir in the vanilla, if you're using it.

Pour the icing into the bowl of your stand mixer or another mixing bowl, and refrigerate until thoroughly chilled; this will take several hours, or up to overnight.

Remove the thickened icing from the refrigerator. Scrape it from the sides of the bowl into the center. Beat it at high speed, using your stand mixer or an electric hand mixer; it's impossible to beat thoroughly enough by hand, so please use a machine. Scrape the sides and bottom of the bowl to make sure you're incorporating all of the chilled icing.

Beat until the icing is smooth and glossy; this will probably take less than a minute. The icing may stay quite thick; or it may thin out and become almost sauce-like. If the icing thins, set it aside to rest at room temperature for 30 to 45 minutes; it'll stiffen as it sits, bringing it to spreadable consistency.

Spread or pipe the icing atop cupcakes, or use it to fill a round layer cake, or ice a 9" x 13" sheet cake.

Yield: 3 to 4 cups icing, enough to ice 24 cupcakes, one 8" or 9" round layer cake, one 9" x 13" cake, or a typical recipe of whoopie pies (about 12 to 18 pies, depending on size).
Tips from our bakers
This basic white icing can be flavored to taste. To make chocolate icing, add 1/2 cup Dutch-process or natural cocoa powder to the marshmallows and cream before heating. For coffee icing, add 2 teaspoons espresso powder to the marshmallows and cream before heating; once the marshmallows are melted, increase the flavor, if desired, by adding additional espresso powder to taste.
If you let the icing chill completely in the fridge, it'll be stiff and harder to beat. But just keep beating, it'll gradually soften as it warms up.
For pure white icing, omit the vanilla. But if you're OK with off-white icing, the vanilla adds rich flavor.
We've found that mini marshmallows are the key to achieving the right consistency for this frosting. Also, using name-brand marshmallows (rather than store brand) will produce the most reliable result.