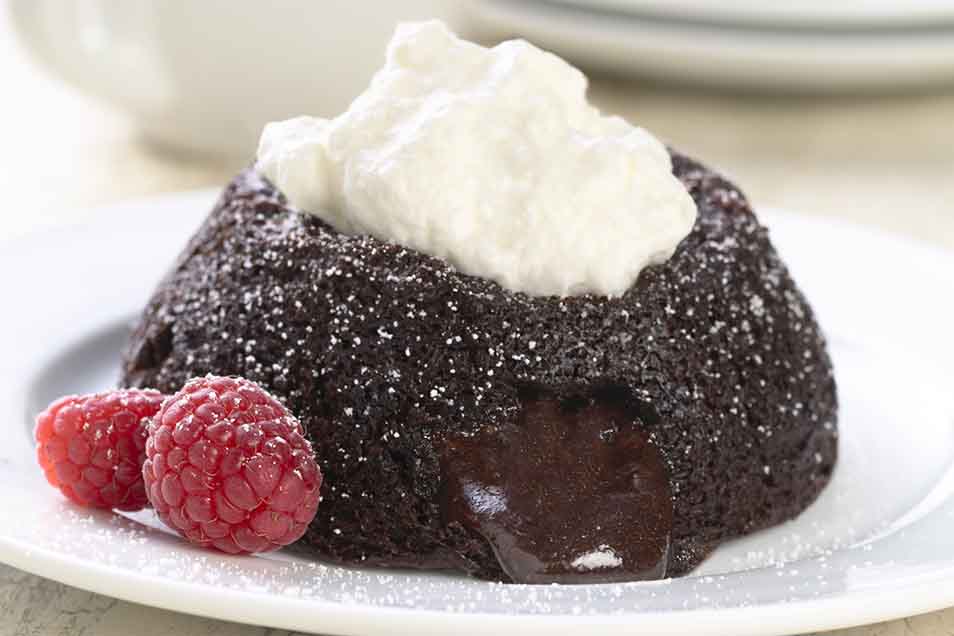 At a Glance
Prep

10 mins. to 15 mins.

Bake

14 mins. to 14 mins.

Total

24 mins. to 29 mins.

Yield

3 individual cakes
Want a quick way to impress and indulge your dinner company? Turn your gluten-free chocolate cake mix into something elegant with this easy variation to create a molten chocolate wonder.
Directions
Preheat the oven to 375°F and lightly grease 3 silicone baking cups. Whisk the cake mix, confectioner's sugar, cocoa and espresso powder until they are thoroughly blended.

Add the water and melted butter to the dry mixture and stir gently.

Stir in the egg just until blended, taking care not to over-mix.

Divide the batter among the baking cups and place 2 bittersweet chocolate disks (optional) into the center of the batter in each cup. Bake at 375F for 14 minutes or until the internal temperature of the cakes reaches between 160-165°F. A quarter-sized circle in the center of the cakes will appear underdone and jiggly when you pull the cakes from the oven.

Immediately run a small knife or small offset spatula around the edges of the cakes to loosen them from the sides and allow them to cool for 5 minutes.

Turn the cakes out onto individual plates and serve immediately with crème anglaise, chocolate sauce, or a nice fruit purée.

Yield: 3 servings.