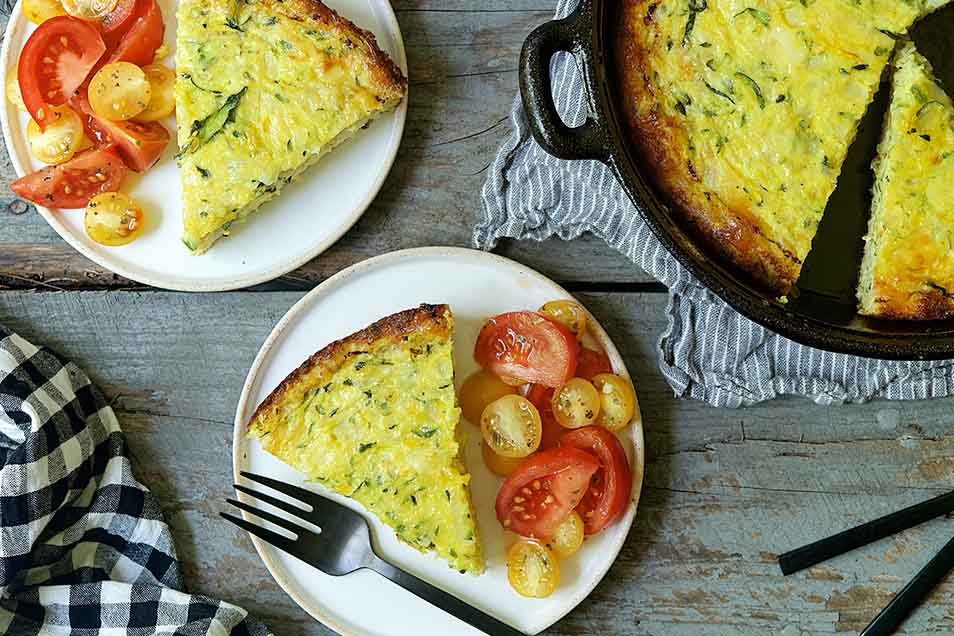 At a Glance
Prep

10 mins. to 20 mins.

Bake

20 mins. to 25 mins.

Total

1 hrs 50 mins. to 3 hrs 10 mins.

Yield

8 to 10 servings
When your garden is overflowing with zucchini — if the horn of plenty has become the horn of "too much" — take a couple of pounds of that prolific squash and make this humble-yet-delicious cheese-and-egg frittata.
2 pounds zucchini/summer squash (about 2 zucchini and 1 summer squash), grated
1/2 teaspoon salt
1 large sweet onion, peeled and diced
1 1/2 cups freshly grated Parmesan cheese
8 large eggs
2 tablespoons King Arthur Unbleached All-Purpose Flour or King Arthur Gluten-Free Flour
Directions
Stir the salt into the grated squash. Place the squash in a colander, weigh it down, and let it drain for an hour or so.

Combine the drained squash and onion. Fry in 2 tablespoons olive oil in a large skillet until soft, about 20 minutes; the vegetables will greatly diminish in volume. Season to taste with additional salt, if desired, and pepper.

Preheat the oven to 400°F.

In a large bowl, whisk together the cheese, eggs, and flour.

Add the cooked squash, drained of any liquid if necessary. Stir to combine.

Drizzle 1 tablespoon olive oil into a 9" or 10" cast iron skillet, and heat the skillet on the stovetop until the oil is very hot.

Spread the vegetable mixture evenly in the pan. Bake the frittata for about 20 to 25 minutes, until it's light golden brown on top.

Remove from the oven, and serve hot, in wedges.

Yield: 8 to 10 servings.
Tips from our bakers
If you're counting calories, fat grams, or cholesterol, this is a great place to use an egg substitute. One 15-ounce carton is perfect for this recipe.