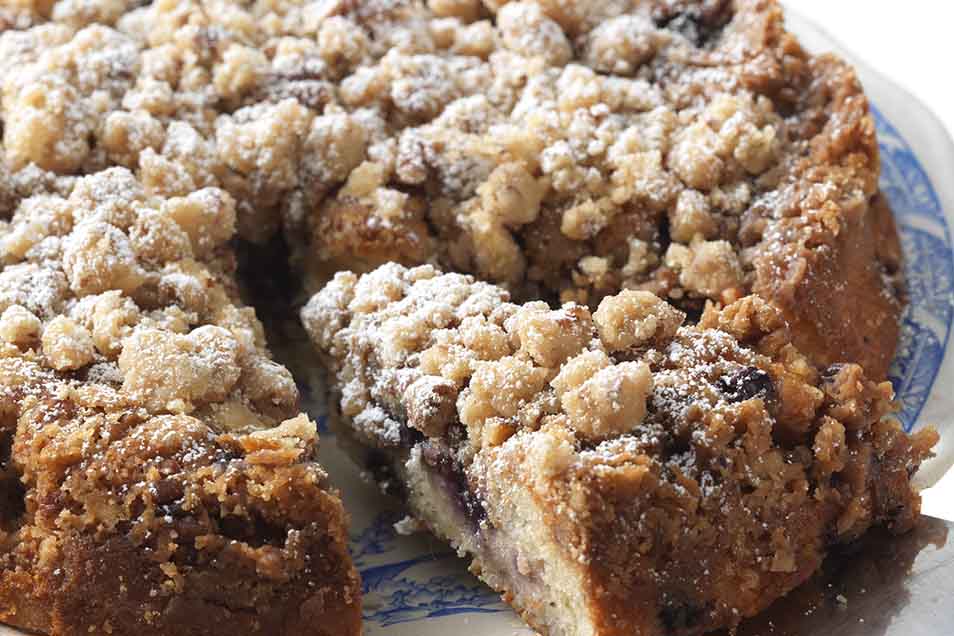 At a Glance
Prep

15 mins. to 25 mins.

Bake

35 mins. to 45 mins.

Total

60 mins. to 1 hrs 20 mins.

Yield

about 16 servings
Dessert for breakfast? Here's another great answer to your need-a-sweet-treat-in-a-jiffy woes! Turn our Gluten-Free Muffin Mix into a delicious blueberry cake dressed with decadent pecan streusel.
Topping
4 tablespoons soft butter
1 cup brown sugar
6 tablespoons Gluten-Free Muffin Mix
1 cup chopped pecans
pinch of salt
Cake
6 tablespoons melted butter or oil
3 large eggs
remainder of Gluten-Free Muffin Mix
1 cup milk
2 cups fresh or defrosted frozen blueberries
Directions
Preheat your oven to 375°F. Grease a 9" x 13" pan, or two 8" X 2" round cake pans.

To make the topping: Combine the soft butter, brown sugar, 6 tablespoons muffin mix, pecans and salt and stir until the mixture is crumbly. Set aside while you prepare the cake batter.

Mix the batter, starting with the remainder of the muffin mix, butter or oil and eggs, on medium-high speed until well-blended.

Add the milk, 1/4 cup at a time, blending well and scraping the sides of the bowl between additions. When all of the milk is added, mix on medium-high speed for about a minute or until the batter has thickened. Gently fold in 1/2 cup of the blueberries.

Pour the batter into the prepared pan(s)and allow to rest for 10 minutes. Top with the rest of the blueberries, then the streusel topping.

Bake the cake for 35 to 45 minutes, or until a thermometer inserted into the middle reads 210°F. Remove it from the oven, and cool slightly before cutting.

Yield: about 16 servings.
Tips from our bakers
If you use frozen berries, make sure they're defrosted and thoroughly drained. If frozen berries are added to the batter, the recipe will fail due to the release of the additional liquid in the frozen berries.
The 10-minute rest before topping with additional berries and streusel allows the baking powder and xanthan gum in the mix time to thicken the batter, so that it can support the topping.