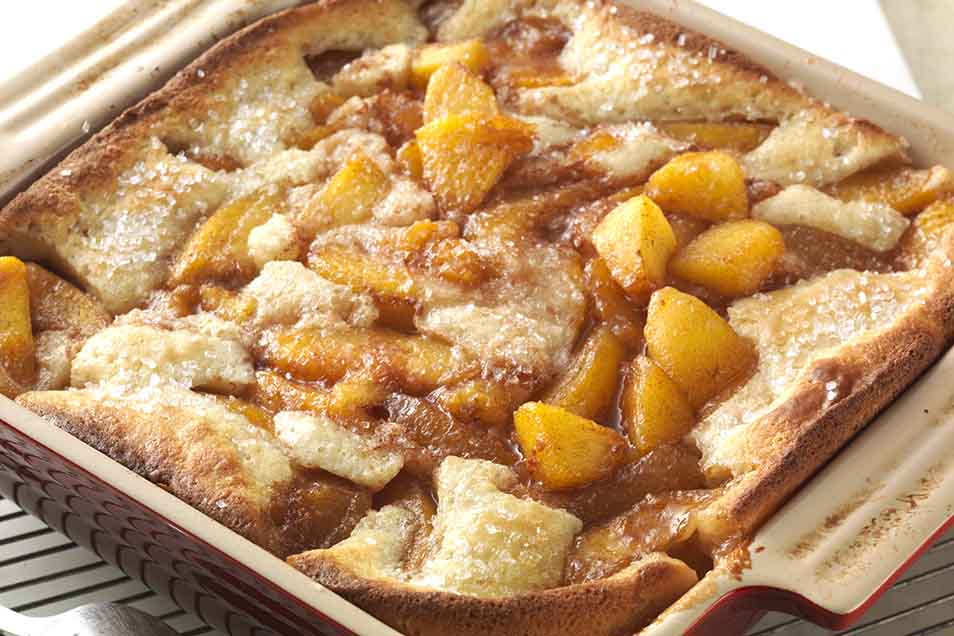 At a Glance
Prep

10 mins. to 25 mins.

Bake

40 mins. to 45 mins.

Total

55 mins. to 1 hrs 20 mins.

Yield

8 servings.
We love this peach cobbler served with a little ice cream on top. Try substituting berries for the peaches for another delicious dessert.

Note: Please read and follow the recipe carefully; it calls for our gluten-free all-purpose baking mix, NOT our gluten-free multi-purpose flour.
Batter
1/4 cup (4 tablespoons) butter
1 cup King Arthur Gluten-Free All-Purpose Baking Mix*
1/2 cup sugar
3/4 cup milk
1 large egg
*Make sure you use our gluten-free BAKING MIX — NOT our gluten-free flour.
Fruit
2 1/2 cups fresh or frozen peaches (about 3 or 4 peaches)
1/2 cup sugar
pinch of salt
1/2 teaspoon ground cinnamon or 1/4 teaspoon ground nutmeg, optional
Directions
Preheat the oven to 375°F.

To prepare the pan: Melt 1/4 cup of butter in the bottom of an 8" square or 9" round pan; set the pan aside while you make the batter.

To make the batter: Mix the baking mix and sugar.

Blend in the milk and egg; pour the batter over the melted butter in the pan.

To prepare the fruit: If you're using fresh peaches, peel, pit, and slice them. If the peaches are sliced/frozen, thaw them. Best, easiest, and fastest way to peel peaches? See our knife-free peeling tip.

Mix the sugar, salt, and cinnamon or nutmeg into the peaches.

To assemble and bake: Spoon the peach mixture over the top of the batter.

Bake until the top is lightly browned and the fruit is bubbling, about 40 to 45 minutes.

Remove the cobbler from the oven, and allow it to cool for 5 to 10 minutes before serving.
Tips from our bakers
This cobbler works great using berries instead of peaches. Try substituting berries for all or part of the peaches. Add the grated rind of 1 lemon or 1/4 teaspoon lemon oil, if desired, to help bring out the flavors.