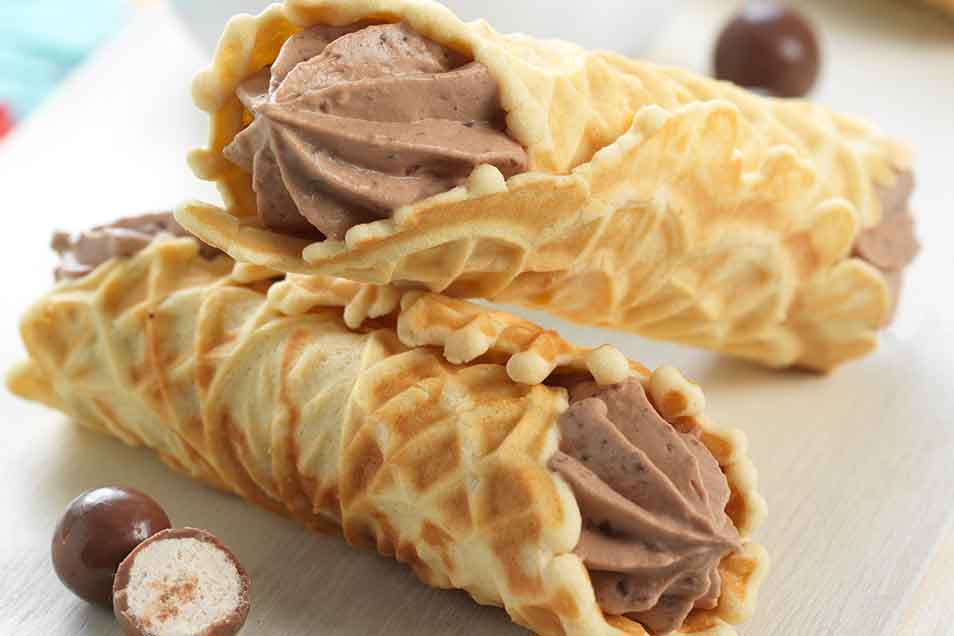 At a Glance
Prep

25 mins. to 30 mins.

Bake

Total

45 mins. to 60 mins.

Yield

about 2 dozen filled pizzelle
If you can easily munch down a box of malted milk balls in one sitting, this recipe is for you. Picture this: a crisp malted milk pizzelle cookie, wrapped and stuffed with milk chocolate filling, said filling loaded with crushed malted milk balls — yes?

This recipe requires a pizzelle iron.
Cookies
3 large eggs
1/2 cup sugar
1/2 teaspoon salt
1/2 teaspoon vanilla extract
1/2 cup malted milk powder
1 1/4 cups King Arthur Unbleached All-Purpose Flour
1 teaspoon baking powder
1/2 cup (8 tablespoons) very soft butter
Filling
1 cup chopped milk chocolate
2/3 cup heavy cream
5-ounce box malted milk balls, crushed fine
Directions
To make the pizzelle: In a medium-sized bowl whisk together the eggs until well combined. Add the remaining pizzelle ingredients and beat with an electric or hand mixer for 1 minute, until very smooth. Set the batter aside to rest at room temperature for 20 minutes.

To make the filling: Place the chopped milk chocolate in a large, heatproof bowl. Bring the heavy cream to a boil and pour over the chocolate. Stir until smooth. Set the bowl in the refrigerator for the mixture to cool and thicken.

To assemble the pizzelle: Preheat your pizzelle iron. For best results, an iron that makes 4" pizzelle is ideal. To make pizzelle tubes, find a non-stick, heatproof rolling pin or dowel about 1" in diameter; cannoli tubes work well.

Bake the pizzelle one or two at a time until they're a light golden brown. Remove each pizzelle and briefly wrap it around your tube or dowel. Carefully hold it in place until it firms up enough to hold its shape without the dowel. Remove the dowel and set the cookie aside on a rack to cool completely. See "tips," below, for an alternative to shaping pizzelle.

Cool the pizzelle completely. Remove the chocolate from the fridge. In order to whip properly, it should be the consistency of chocolate pudding. Using an electric beater, whip the cream until it resembles cake frosting.

Gently fold in the crushed malted milk balls. Place the filling in a pastry bag, or a large zip-top bag with the corner cut off.

Place the tip of the bag in the center of the "tunnel" and fill towards one end. Turn the pizzelle around and repeat, filling from the center outwards.

If desired place a whole malted milk ball at each end for decoration. Serve immediately.

Leftovers may be stored in the refrigerator for 2 to 3 days. The filling will stay firm, though the shells will soften. If you want to make the recipe ahead of time, don't fill the pizzelle until just before serving time, to keep them crisp.

Yield: approximately 24 filled pizzelle.
Tips from our bakers
Don't feel like rolling your pizzelle? No worries. Just use a pizza cutter or sharp knife to cut each pizzelle into 4 wedges while still warm, then set aside to cool completely. Use the wedges to scoop up the filling, as you would chips and salsa.