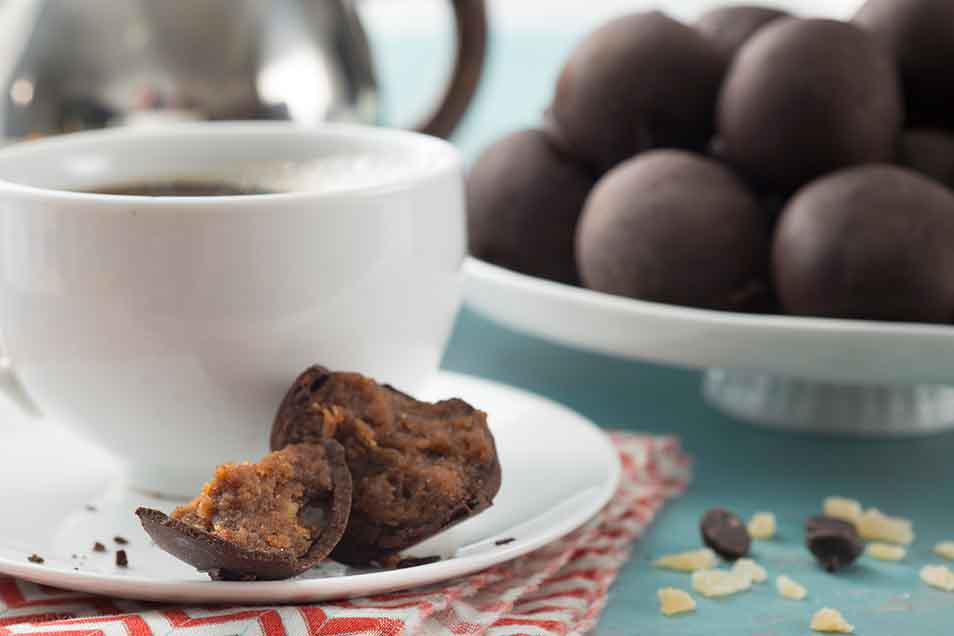 At a Glance
Prep

40 mins. to 45 mins.

Bake

Total

1 hrs 10 mins. to 1 hrs 40 mins.

Yield

approximately 40 cake balls
Sweet and spicy gingerbread has been a holiday favorite for generations. Enjoy this new twist — a combination of fresh gingerbread cake crumbs, spicy ginger bits, and rich pastry cream, rolled and dipped in dark chocolate. Cake balls are the ultimate in portable, pop-able treats.
Directions
Begin by baking and cooling your favorite gingerbread recipe. You'll need one 9" round cake to make approximately 40 cake balls.

In a large bowl, break the cake into soft, moist crumbs. If the corners and edges won't crumble, remove them from the bowl. The crumbs will be reminiscent of fresh snow, soft enough to fluff up, but able to hold a ball shape when squeezed.

Mix the crystallized ginger into the crumbs.

Blend in 1/2 cup prepared pastry cream. Use your favorite recipe or try our Pastry Cream Mix.

Use a spoon or your fingers to gently blend all the ingredients together. The mixture should hold together easily when squeezed into a ball. If the ball falls apart, you need a little extra pastry cream to make it hold.

When the mixture holds together well, scoop up small portions with your hands or a tablespoon scoop. Use your palms to roll the balls smooth, and place them on a parchment-lined baking sheet. Place the shaped balls in the freezer for 20 to 30 minute, to chill and firm up. The cake balls can be frozen airtight at this point, for up to 2 months.

When the cake balls are solid, melt 2 cups of semisweet or bittersweet chocolate. Dip each ball in the chocolate, tap to remove the excess, then place back on the parchment to allow the chocolate to firm up.

Serve the cake balls at room temperature, for best texture. They can be stored in the fridge between servings, for up to 4 days.

Yield: approximately 40 cake balls, depending on size.