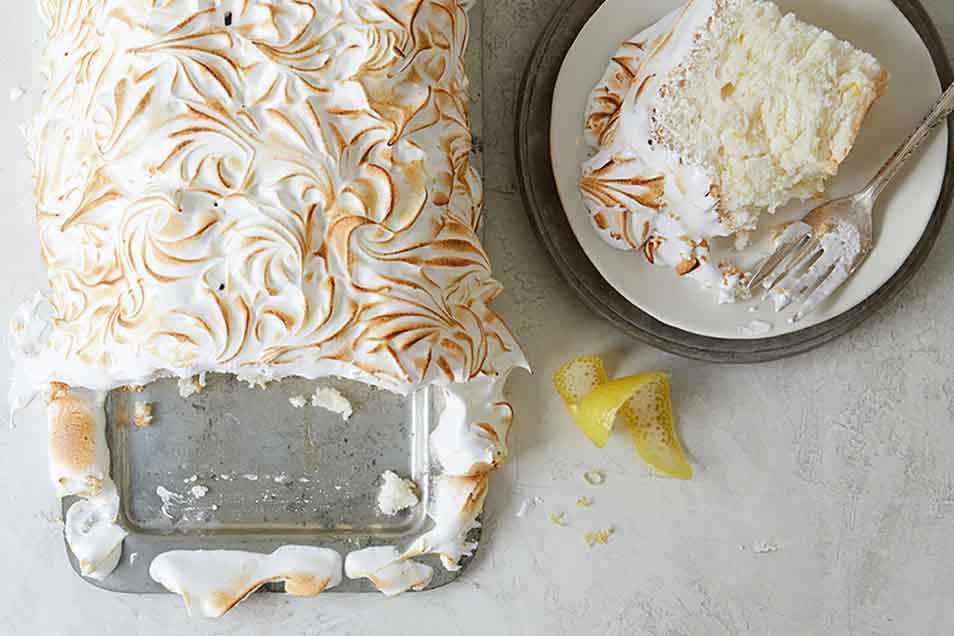 At a Glance
Prep

35 mins.

Bake

40 mins. to 45 mins.

Total

2 hrs 25 mins.

Yield

1 cake, about 8 servings
Fresh and light, this angel food cake is given a lemony twist before being enrobed in golden brown toasted meringue.
Cake
6 large egg whites*, at room temperature
1/2 cup granulated sugar
1 1/2 teaspoons fresh lemon juice
1/4 teaspoon salt
2 tablespoons grated lemon rind (zest)
3/4 cup confectioners' sugar
*Or substitute 6 tablespoons meringue powder + 1/2 cup + 2 tablespoons cold water.
Topping
2 large egg whites*, at room temperature
1/3 cup granulated sugar
1/2 teaspoon fresh lemon juice
1/2 teaspoon vanilla extract
1/4 teaspoon salt
*Or substitute 2 tablespoons meringue powder + 4 tablespoons cold water.
Directions
Preheat the oven to 325°F. Have on hand an uncoated, grease-free 8 1/2" x 4 1/2" loaf pan.

To make the cake: Using an electric mixer equipped with a whisk attachment, beat the egg whites until they're foamy and you see the whisk begin to leave tracks in the bowl.

With the mixer running at medium speed, gradually add the granulated sugar, lemon juice, and salt. Increase the speed to high and beat until the whites are glossy and hold a stiff peak. Fold in the lemon zest.

Combine the flour and confectioners' sugar in a sifter and sift one-third of the mixture over the egg whites. Gently fold it in with a large spatula. Repeat twice more to use all of the flour/sugar.

Transfer the batter to the prepared pan and lightly smooth the top.

Bake the cake for 40 to 45 minutes. Remove it from the oven and invert the pan on a cooling rack; let the cake cool completely upside down. Once cool, use a thin-bladed spatula to free the cake's edges from the pan. Place the cake top down on a serving plate.

For the topping: In a clean mixing bowl with clean beaters, whip the egg whites as you did for the cake, gradually adding the sugar. Add the lemon juice, vanilla, and salt, and whip until the meringue is shiny and holds a stiff peak.

Cover the cake all over with the meringue and toast with a chef's torch. Or place the cake under the broiler, keeping it 6" to 8" away from the element and turning frequently for even browning.

Serve the cake at room temperature. Store any leftovers in the refrigerator for a day or two.