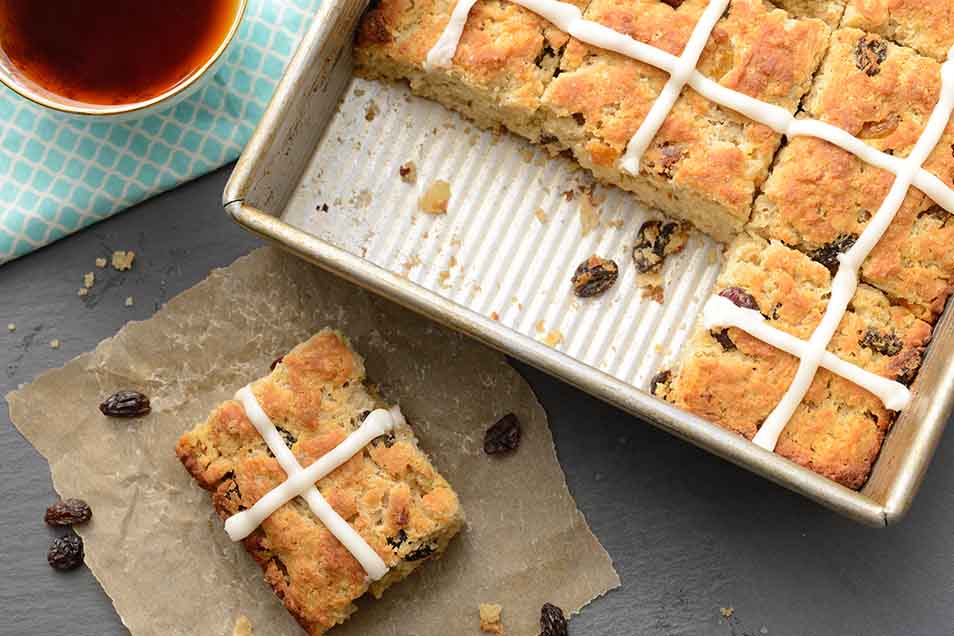 At a Glance
Prep

10 mins. to 25 mins.

Bake

14 mins. to 18 mins.

Total

24 mins. to 43 mins.

Yield

9 biscuits
These gluten-free hot cross biscuits are tender, fruity, and perfectly scented with your favorite pie spices. They're the perfect breakfast treat to share this Easter holiday!

Note: Please read and follow the recipe carefully; it calls for our Gluten-Free Baking Mix, NOT our Gluten-Free Flour.
Biscuits
2 cups King Arthur Gluten-Free All-Purpose Baking Mix*
1/2 teaspoon cinnamon
1/8 teaspoon cloves
1/8 teaspoon nutmeg
1/2 cup cold butter
1/4 cup dried currants
1/2 cup dried fruit, chopped if large; your favorite mixture
1/2 cup cold milk
2 large eggs
extra butter for melting and brushing on dough
*Make sure you use our gluten-free BAKING MIX — NOT our gluten-free flour
Icing
3/4 cup confectioners' sugar
1/4 teaspoon vanilla extract
2 to 3 teaspoons milk, or enough to make a thick, pipeable icing
Directions
Preheat the oven to 400°F, with a rack in the center.

Whisk the spices into the baking mix.

Work the cold butter into the baking mix, leaving some butter in small, visible pieces.

Stir in the dried fruit.

Whisk together the milk and eggs, and stir into the dry mixture.

Turn the dough into a greased 8" x 8" baking pan, pressing it into the pan evenly.* Brush the top with melted butter.

Bake the biscuits for 18 minutes, or until they're golden brown. Remove them from the oven and let them cool completely in the pan. When cool, cut into 9 squares.

To make the icing, mix the sugar, vanilla, and enough milk to make a mixture that's smooth and pipeable. Pipe the icing atop the squares in the typical cross shape.

*To make drop biscuits, see "tips," below.
Tips from our bakers
For lovely drop biscuits, scoop the dough in 1/4-cupfuls, the scoop dipped each time in butter. A muffin scoop works well here. Press lightly to flatten slightly, and bake as directed.