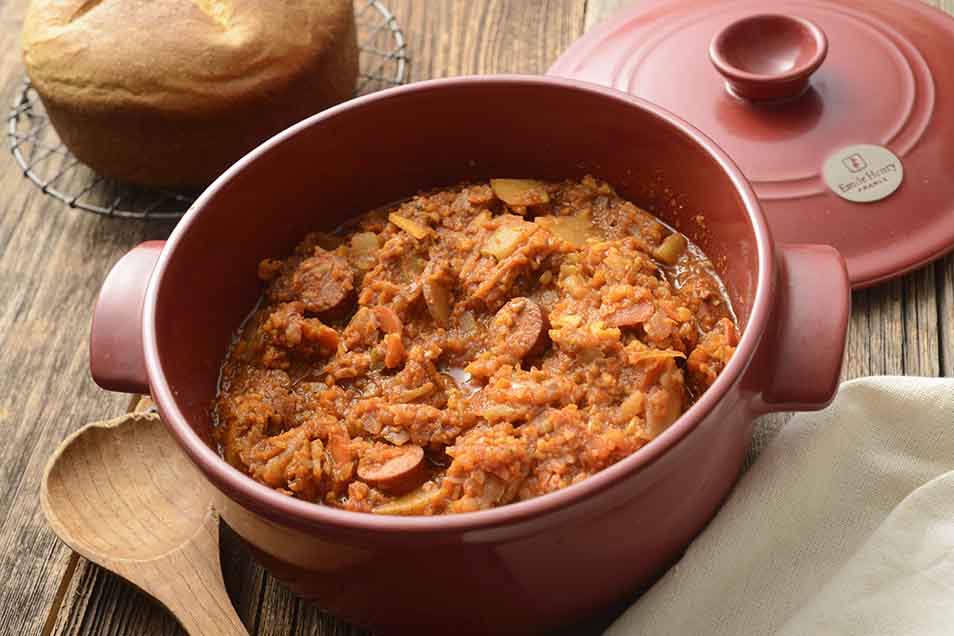 At a Glance
Prep

20 mins. to 30 mins.

Bake

Total

1 hrs 40 mins. to 3 hrs 20 mins.

Yield

2 quarts, approximately 8 servings
Hobo stew, Refrigerator Stew, Stone Soup — even Garbage Soup: this recipe of sorts has been around as long as mothers and cooks have been using up leftovers to create tempting and economical dinners. Use whatever veggies and meats you have on hand (note that the ones suggested here are just that: suggestions), plus a little help from prepared tomato juice, and in no time you'll have a savory supper for a crowd.
The Basics
1 medium onion, chopped
4 to 5 celery stalks, chopped
2 cups chopped or shredded cabbage
2 cups shredded carrots
4 medium boiling potatoes, chopped
16 ounces sausage: chicken, pork or beef
6 cups prepared tomato juice, or tomato-vegetable juice (such as V8)
Directions
In a stock pot, melt a little butter or oil and sauté the onions and celery over medium heat until they begin to soften, about 3 to 5 minutes.

Add the shredded cabbage and carrots. Cook for another 3 to 5 minutes, until the vegetables begin to wilt.

Add the potatoes and meat. Pour in the tomato juice; add a little extra juice or water, if needed, to cover the solids in the pan.

Cover the pot, and cook the stew over medium-low heat for 60 to 90 minutes, or until the vegetables are soft and the meat is fully cooked. This recipe can also be made in a slow cooker set on high heat for 3 to 4 hours, or low heat for 8 hours.

Remove the stew from the heat, and serve hot, with plenty of bread for sopping.

Yield: 2 quarts, approximately 8 servings.
Tips from our bakers
If you don't care for one or the other of any of the veggies in this recipe, feel free to exchange for something you like. Sweet potatoes for regular? Sure! Kale for cabbage? Why not? It's your stew; it's up to you.