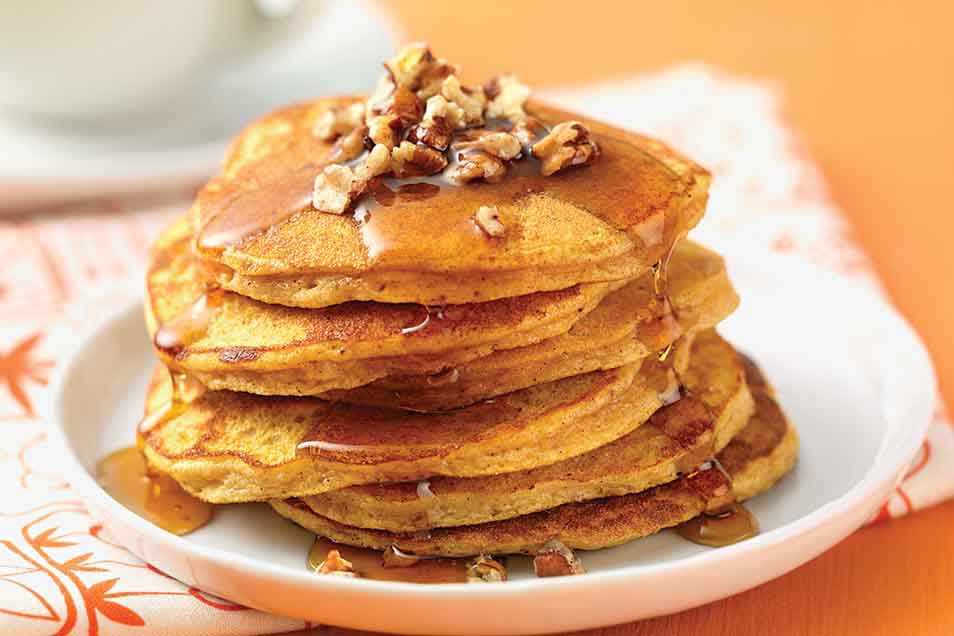 At a Glance
Prep

15 mins. to 20 mins.

Bake

3 mins. to 5 mins.

Total

18 mins. to 25 mins.

Yield

14 to 16 medium (3") pancakes
These gluten-free, grain-free, fluffy pancakes have the rich aroma of pumpkin and spice. They're tasty as is, but the option to add honey takes them over the top. Drizzle with maple syrup and sprinkle with toasted pecans for an extra-special treat.
Directions
Whisk together the eggs, pumpkin, milk, honey, and vanilla extract until well blended.

In a separate bowl, combine the remaining ingredients and mix until thoroughly combined.

Whisk together the dry and wet ingredients until evenly moistened.

Heat a heavy frying pan over medium heat, or heat an electric griddle to 350°F. Generously grease the frying pan or griddle.

Drop the batter by tablespoonfuls onto the buttered pan or griddle.

Bake the pancakes on one side until the edges begin to dry, a few bubbles form on the surface, and the pancakes hold together. Gently turn them and cook the other side until firm.

Repeat with the remaining batter. Serve pancakes warm.

Yield: 14 to 16 medium (3") pancakes
Tips from our bakers
These pancakes are more tender and fragile than conventional pancakes. Be sure to butter the griddle well. Also, make sure that it's not hotter than recommended, since the first side of the pancakes has to cook long enough, without burning or sticking, to tolerate being turned.
This batter thickens as it sits. You can add a little milk to thin it, but we recommend spreading the batter with the back of a spoon or ladle rather than over-thinning. Adding more milk tends to make the pancakes more fragile.