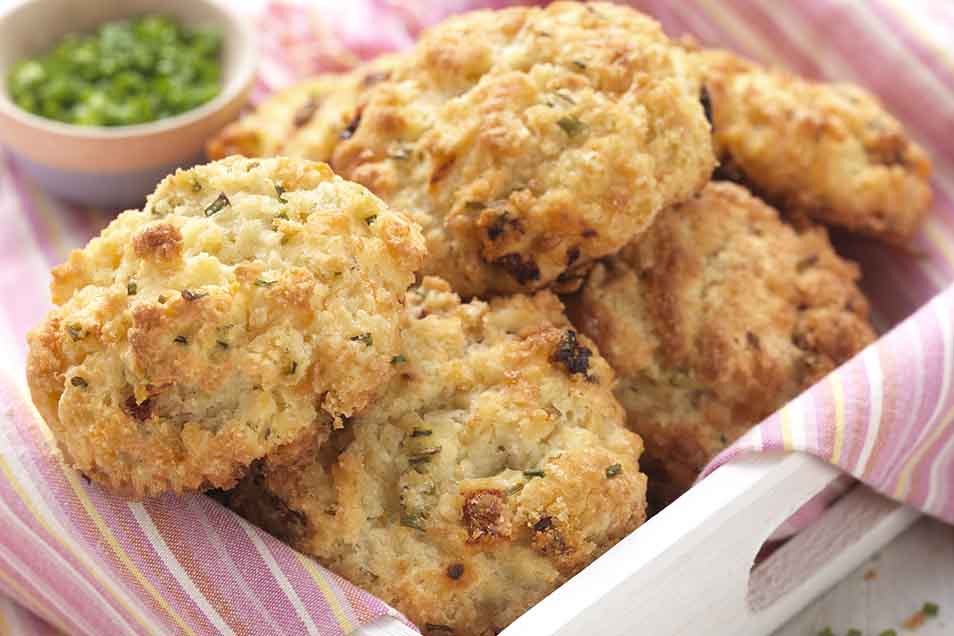 At a Glance
Prep

15 mins. to 20 mins.

Bake

15 mins. to 20 mins.

Total

30 mins. to 40 mins.

Yield

10 biscuits
Are you convinced that a gluten-free biscuit can't be tender and flavorful? This summery, savory biscuit full of sun-dried tomatoes, herbs, and cheese will prove you wrong! Enjoy it as is with butter; or throw it together with your favorite egg sandwich combo and be on your way!
1 3/4 cups King Arthur Gluten-Free Multi-Purpose Flour
2 teaspoons baking powder
1/2 teaspoon xanthan gum
3/4 teaspoon salt
1/2 cup cold butter, cut into cubes
3 tablespoons chopped fresh chives
1/2 cup sun-dried tomatoes, chopped
1/3 cup grated sharp cheddar cheese
2 large eggs
1/2 cup cold milk
Directions
Preheat the oven to 400°F. Line a baking sheet with parchment, or leave it bare; no need to grease it.

Blend together the flour, baking powder, xanthan gum, and salt.

Work the cold butter into the dry ingredients until the mixture is crumbly.

Stir in the chives, sun-dried tomatoes, and cheese.

In a separate bowl, beat together the eggs and milk.

Add the liquid ingredients to the dry ingredients, stirring just until a cohesive dough forms; it'll be sticky.

Using a muffin scoop or large spoon, scoop the dough in 1/4-cupfuls onto the prepared baking sheet; you should have 10 mounds of dough. Press them down gently to flatten slightly. Allow the biscuits to rest for 10 to 15 minutes.

Bake the biscuits for 15 to 20 minutes, or until they're golden brown. Remove them from the oven, and serve warm, or at room temperature. Store at room temperature for several days; freeze, well-wrapped, for longer storage.

Yield: 10 biscuits.