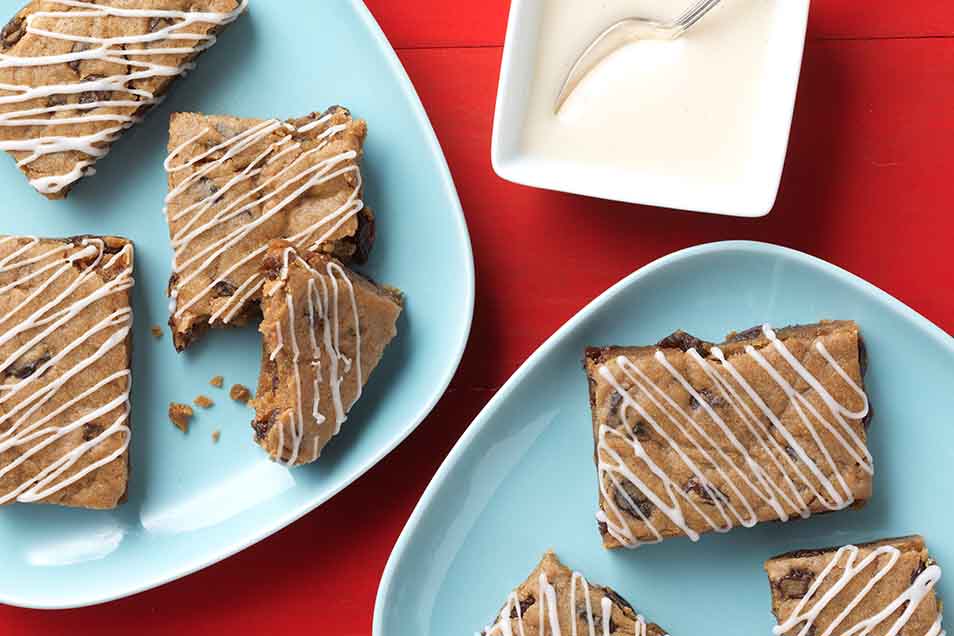 At a Glance
Prep

25 mins. to 35 mins.

Bake

18 mins. to 20 mins.

Total

43 mins. to 55 mins.

Yield

35 bars
These moist, chewy bars are a New England classic. With their wonderful blend of molasses and spice, everyone will think there's ginger in them. But the real star is a more subtle flavor: allspice. Hermits keep and ship exceptionally well (up to a month in an airtight cookie tin); and benefit from a day or two of aging, so the spices can blend.
Bars
1 1/3 cups sugar
1/2 cup plus 2 tablespoons vegetable shortening
1/4 cup (4 tablespoons) unsalted butter
1/4 cup molasses
3/4 teaspoon salt
3/4 teaspoon ground allspice
1 3/4 teaspoons baking soda
2 large eggs
1/3 cup water
2 cups raisins
Directions
Preheat the oven to 375°F. Lightly grease a 10" x 15" jelly roll pan, or similar sized pan (this recipe was successfully tested in our 9 ½" x 14" jelly roll pan).

In a large mixing bowl, beat together the sugar, shortening, and butter, beating at medium speed until fluffy. Add the molasses, salt, spices, and baking soda. Mix for 1 minute, then stop the mixer and scrape down the sides and bottom of the bowl.

Add the eggs one at a time, beating well after each addition. Add half the flour and mix until combined. Add the water, mix to combine, then add the rest of the flour. Mix until incorporated (the batter will be somewhat stiff). Add the raisins and mix until evenly distributed.

Plop the batter into the prepared pan, and spread to distribute it evenly. For best results, either wet your hands and pat the top until smooth, or cover the dough with some plastic wrap and roll over it lightly to smooth the top. Peel off the plastic before baking.

Bake the hermits for 17 to 19 minutes, until the edges are light brown. They'll puff up in the oven and the top will get shiny. As soon as you see this, pull the pan from the oven. The top will fall back down and the interior of the cookies will have an almost fudgy consistency. Cool the bars completely, right in the pan, before glazing.

To make the glaze: Whisk together the milk, sugar, and vanilla until you have a glaze with thin, spreadable consistency. Use a pastry brush to coat the tops of the hermits, or drizzle in a decorative pattern and let the glaze set before cutting into bars. Cut the bars in small squares or rectangles (they're rich), remove from the pan, and serve.

Store any leftovers, well wrapped, at room temperature for several days. Freeze for longer storage.
Tips from our bakers
Be careful not to overbake these bars. If you do, you'll get something that's more like a cake-type brownie, and it won't be as moist and irresistible.
Want to make these bars with King Arthur Unbleached Cake Flour? Simply substitute it for the all-purpose flour, no other changes needed.