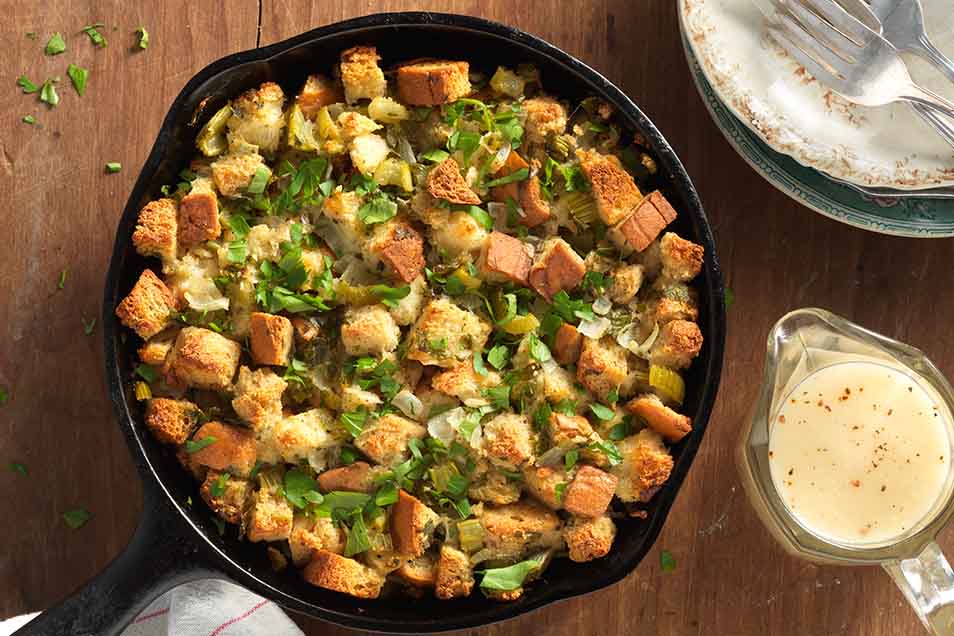 At a Glance
Prep

10 mins. to 15 mins.

Bake

1 hrs 5 mins. to 1 hrs 15 mins.

Total

1 hrs 30 mins. to 1 hrs 50 mins.

Yield

8 to 12 servings.
When you're feeding a crowd where one or more are eating gluten-free, it can be a challenge to keep everyone happy and fed. Happily, no one will ever know this stuffing is gluten-free; just start with gluten-free bread, and you're home free.
Stuffing
8 cups bread cubes, made from firm white gluten-free sandwich bread
1/2 cup butter
3 cups peeled, diced onions (about 3 medium onions)
1 cup diced celery, including green tops
2 tablespoons dried parsley, or 1/4 cup fresh chopped parsley
1 to 2 teaspoons poultry seasoning or Bell's Seasoning, to taste
2 teaspoons salt
1/4 to 1/2 teaspoon ground black pepper, optional
2 cups gluten-free broth (chicken, beef, turkey, vegetable, etc.)
3 large eggs
Gravy
2 to 3 tablespoons cornstarch
2 cups gluten-free broth (chicken, beef, turkey, vegetable etc.), cold
2 tablespoons fat/drippings, melted butter, or vegetable oil
salt and ground black pepper (optional), to taste
Directions
To make the stuffing: Place the bread cubes on a baking sheet, and let them sit uncovered, overnight, to become a bit stale. This will help give the stuffing better texture.

Preheat the oven to 350°F. If you'll be baking the stuffing outside the bird, lightly grease a 2-quart casserole dish or similar-size pan.

Melt the butter in a large frying pan, and sauté onions and celery slowly until soft, about 20 minutes. Remove them from the heat.

Place the bread cubes in a large bowl. Spoon the onion-celery mixture over the bread.

Add the parsley, poultry seasoning, salt, and pepper, and toss the mixture until it's thoroughly combined. A large spoon or spatula works well for this task.

Whisk together the broth and eggs, and stir into the bread mixture.

Spoon the stuffing into the turkey. Or spoon it into the prepared pan, and cover the pan loosely with aluminum foil.

If you're baking it in a pan, bake the stuffing for 1 hour, until it's firm and no liquid is evident. For a crusty top, remove the foil about 20 minutes before the end of the baking time. Yield: 8 to 12 servings.

To make the gravy: Combine the cornstarch with 1/2 cup of the broth, whisking it or shaking it in a jar until no lumps remain.

Place the cornstarch/broth and the remaining broth into a saucepan. For extra flavor and richness, stir in pan drippings or melted butter; omit this step, if desired.

Cook the gravy over medium heat, stirring frequently, until it thickens. Season to taste with salt and pepper.

Yield: 2 cups, 8 to 12 servings.

1/4 cup (60g) gravy has: Calories 40, Calories from Fat 25, Total Fat 3g,Saturated Fat 2g, Trans Fat 0g, Cholesterol 5mg, Sodium 15mg, Total Carbohydrate 2g, Dietary Fiber 0g,Sugars 0g,Protein 1g.
Tips from our bakers
Looking for a good GF bread recipe to turn into stuffing? Try our Gluten-Free Sandwich Bread.
Feel free to dress up your stuffing with cooked, crumbled breakfast sausage; cooked, finely diced giblets from the turkey; chopped green and/or red peppers, which you've cooked along with the onions and celery; or however you'd like to enhance it.
Using 2 teaspoons poultry seasoning or Bell's Seasoning makes the stuffing quite strong. Unless you're sure you like the flavor, ease the throttle back a bit.
Want to make your own favorite stuffing recipe gluten-free? Simply substitute gluten-free bread for the bread called for. And remember to make sure all of your other ingredients are gluten-free, as well.