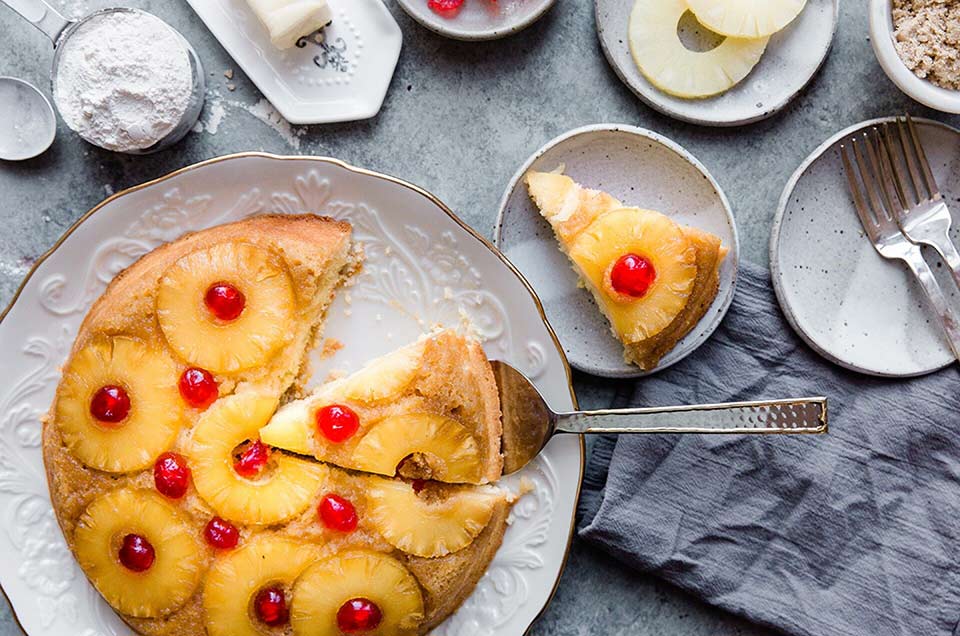 At a Glance
Prep

20 mins. to 30 mins.

Bake

43 mins. to 47 mins.

Total

1 hrs 3 mins. to 1 hrs 17 mins.

Yield

1 large cake, about 12 to 16 servings
How was this iconic recipe born? No one knows for sure. Skillet cakes — featuring fruit and sugar in the bottom of a cast iron skilled, topped with cake batter and cooked atop the stove — were common in both Europe and America for centuries. So it stands to reason that pineapple would eventually make its way into a skillet cake — which it did, probably sometime during the 1920s. At any rate, this version, with its bounty of both pineapple and cherries atop a brown sugar syrup-drenched golden cake, is a winner.
Cake
2 teaspoons baking powder
1/2 teaspoon salt
2 large eggs, yolks separated from whites
1/2 cup (8 tablespoons) unsalted butter*
1 cup granulated sugar
1/2 cup milk
1 teaspoon vanilla extract
*Reduce the salt to 1/4 teaspoon if you use salted butter.
Topping
2 tablespoons butter
1 cup brown sugar
20-ounce can pineapple rings, drained
about 2 dozen maraschino cherries
Directions
Preheat the oven to 350°F. Lightly grease a 9" cast iron skillet (it should measure 9" across the bottom; the top diameter may be greater than 9"). Or lightly grease a 9" x 2"-deep square cake pan.

Whisk together the flour, baking powder, and salt. Set the mixture aside.

Whisk the egg yolks to combine; set them aside. Beat the whites, separately, until light and frothy.

Beat the butter until soft and smooth. Gradually beat in the sugar.

Add the egg yolks, beating to combine. Scrape the bottom and sides of the bowl, and beat again, until smooth.

Add the milk alternately with the flour mixture, mixing gently but thoroughly after each addition.

Fold in the beaten whites, then the vanilla.

To make the topping: Melt the butter in the skillet, and sprinkle the sugar evenly on top. Space pineapple rings atop the sugar.

Spoon the batter on top.

Bake the cake for about 45 minutes, until a toothpick inserted into the center comes out clean.

Remove the cake from the oven. Loosen its edges. CAREFULLY turn the cake upside-down onto a serving plate. Lift the pan off the cake, scraping any pineapple or brown sugar from the pan onto the cake, if it sticks.

Place the cherries artfully atop the warm cake, pressing them in gently.

Serve the cake warm, or at room temperature. Store it at room temperature, well-wrapped, for several days; freeze for longer storage.

Yield: 1 cake, 12 to 16 servings.