Caramel Chips
SKU:

211972

UPC:

071012109883

Maximum Purchase:

20 units

swym-disabled:

False

_Special_Savings:

No

_Promo_Exclusion:

No

_badge_glutenfree:

No

_badge_kosherpareve:

No

_badge_kosherdairy:

Yes

_badge_organic:

No

_badge_wholegrain:

No

_badge_wholegrain50:

No

_badge_wholegrain100:

No

_badge_sourcednongmo:

No

_badge_nongmo:

No

_badge_madeintheusa:

No

_badge_1percent:

0

_badge_1for1:

0

_badge_recycle:

0

_badge_ketofriendly:

0

_badge_justaddwater:

0

_badge_bcorp:

0

_Parent_Category:

Ingredients

_Child_Category:

Chocolate

_Online_Exclusive:

0

_KAB_Exclusive:

0

_sale_label:

No

_clearance_label:

No

_special_savings_label:

No

_free_ship_label:

No

_ground_ship_label:

No

_label_path:

0

_package_path:

/content/packaging/211972.pdf

_label_path:

/content/label-path/211972.jpg
Caramel Chips
SKU:

211972

UPC:

071012109883

Maximum Purchase:

20 units

swym-disabled:

False

_Special_Savings:

No

_Promo_Exclusion:

No

_badge_glutenfree:

No

_badge_kosherpareve:

No

_badge_kosherdairy:

Yes

_badge_organic:

No

_badge_wholegrain:

No

_badge_wholegrain50:

No

_badge_wholegrain100:

No

_badge_sourcednongmo:

No

_badge_nongmo:

No

_badge_madeintheusa:

No

_badge_1percent:

0

_badge_1for1:

0

_badge_recycle:

0

_badge_ketofriendly:

0

_badge_justaddwater:

0

_badge_bcorp:

0

_Parent_Category:

Ingredients

_Child_Category:

Chocolate

_Online_Exclusive:

0

_KAB_Exclusive:

0

_sale_label:

No

_clearance_label:

No

_special_savings_label:

No

_free_ship_label:

No

_ground_ship_label:

No

_label_path:

0

_package_path:

/content/packaging/211972.pdf

_label_path:

/content/label-path/211972.jpg
Product information
The creamiest caramel chips for baking.
So good, just try not to eat them all before you bake! We love adding these creamy, sweet caramel chips to our recipes. They're absolutely delicious in so many baked goods, from scones to cakes to muffins. Add them to your favorite chocolate chip cookie recipe for a little something extra! Packed in a pouch with recipe on back.
From June to September, orders containing meltable chocolates will reflect discounted upgraded shipping at checkout to limit melting in transit.
Nutrition Label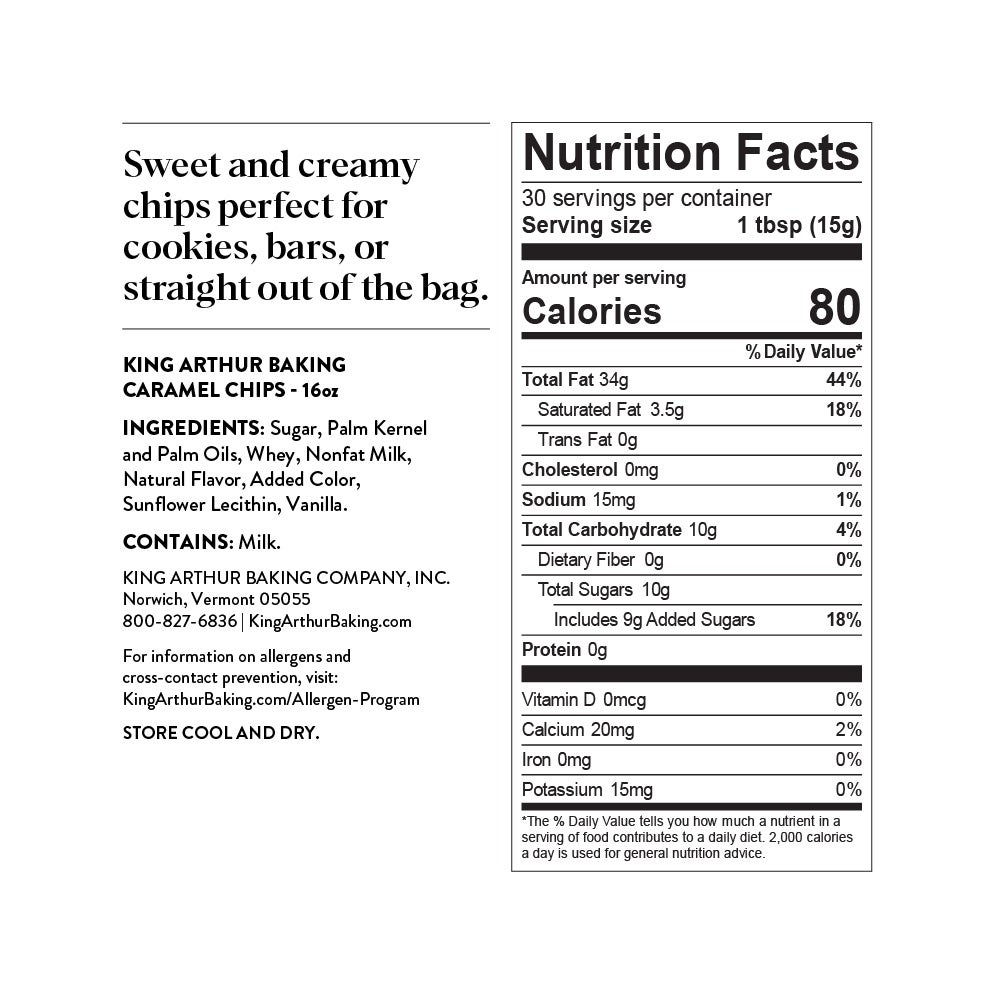 View Product Packaging (.pdf)
Our Values